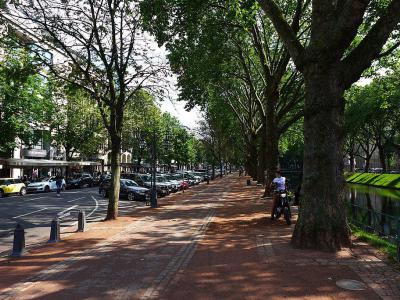 Königsallee, Duesseldorf
(must see)
The Königsallee is an urban boulevard in Düsseldorf. It is noted for both the landscaped canal that runs along its center, as well as for the fashion showrooms and luxury retail stores located along its sides. Nicknamed Kö by the locals, the Königsallee is by far Germany's busiest, upscale shopping street.

The canal and the boulevard were completed between 1802 and 1804. Hotel Breidenbacher Hof was opened in 1812; other buildings followed shortly after. The canal which runs through the center of the boulevard is 31 metres (102 ft) wide and up to 5 metres (16 ft) deep. The canal is fed by the Düssel, which was diverted to provide the necessary water. Two iron bridges cross the canal. On the suggestion of the landscape architect, Chestnut trees (in German Kastanien) were planted along the canal and the boulevard was therefore given the name "Kastanienallee" accordingly. After an incident in 1848, when horse manure was thrown at King Friedrich Wilhelm IV, the street was renamed "Königsallee" (meaning King's Avenue) as a gesture of reconciliation.

Many major designers have a presence on Königsallee, so that a roll call reads like a "who's who" of the international fashion industry. Products offered range from luxury fur coats to high-end electronics for audiophiles, and the gamut in between.
Sight description based on wikipedia
Walking Tours in Duesseldorf, Germany