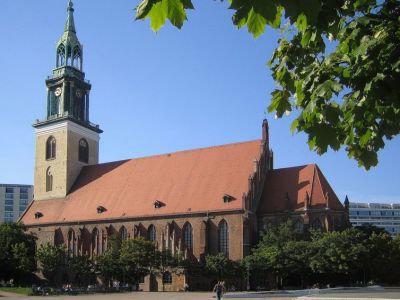 Marienkirche (St. Mary's Church), Berlin
Converted from its original Roman Catholic denomination to a Lutheran Protestant church, Saint Mary's lays claim to being among the oldest churches in Berlin, with origins tracing back to the late 13th century. The unassuming fusion of architectural styles somehow renders it one of Berlin's most appealing churches, its simplicity a reminder of the city's humble village beginnings. Once hemmed in by neighboring buildings, Saint Mary's now stands in solitude, casting its shadow beneath the imposing TV Tower.

The interior – an excellent place to escape the buzz – reveals a rather austere Gothic design punctuated by notable Baroque embellishments. Of particular note is the pulpit adorned with elaborately carved cherubs wielding trumpets and the baptismal font supported by three black dragon-shaped legs. In terms of carving and gilding, the restored organ tops it all off, and visitors can enjoy rousing recitals on Thursdays and Fridays, typically accompanied by an invitation to closely examine the 18th-century instrument.

Upon entering, brace yourself for a surprise: a 22-meter-tall frieze titled "The Dance of Death", commemorating the plague epidemics that wreaked havoc during the Dark Ages. Note that it is undergoing restoration and may not be open for public shenanigans.

Why You Should Visit:
A tranquil medieval oasis nestled in the heart of Berlin. The early Gothic hall design enriched with opulent Baroque elements renders it one of the city's most captivating churches.

Tips:
Photography enthusiasts can find an ideal vantage point with a reflective fountain layout in the square just behind the Fernsehturm (TV Tower), offering a perfect reflection of the church on the water's surface. Additionally, on the roadside of the church, pause to admire the striking statue of Martin Luther, with his right hand touching one of the Bible's pages, as if uttering his renowned phrase, "by faith alone".
Marienkirche (St. Mary's Church) on Map
Walking Tours in Berlin, Germany
Useful Travel Guides for Planning Your Trip
---