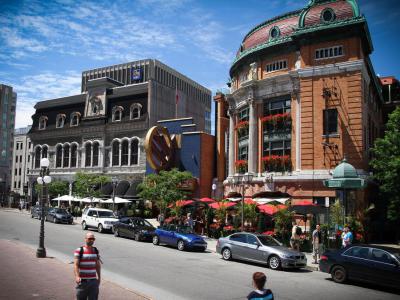 Place d'Youville, Quebec City
Located in one of the city's busiest junctions, Place D'Youville – formerly an important market square – is now a bustling crossroads and cultural forum that marks the boundary between Old Quebec and the Quebec Parliament Hill. Redevelopment has given the square a large promenade area with several trees and benches, while a large kiosk hosts small shows and serves as a meeting spot. The counterscarp wall, part of the fortifications that were removed in the 19th century, has been highlighted by the use of black granite blocks. Starting in October, part of the square is covered in ice, much to the delight of skaters.

At the western end of the Place D'Youville stands Les Muses, a majestic bronze sculpture by Alfred Laliberté (1878-1953). The six muses represent music, oratory, poetry, architecture, sculpture and painting.
Walking Tours in Quebec City, Quebec