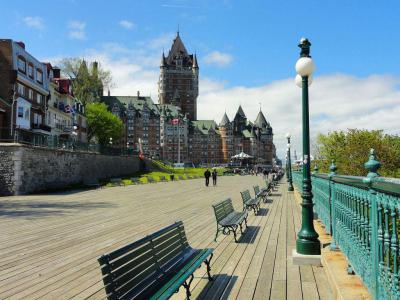 Terrasse Dufferin, Quebec City
(must see)
Along the front of Château Frontenac is the wide boardwalk of Terrasse Dufferin, conceived in 1879 by the governor general of Canada, Lord Dufferin, as a place for residents and visitors to take their daily stroll. The use of wooden planks gives the whole thing an air of summer, even in the middle of winter, when a huge slide is added.

When you go to places for a view, it is usually one way – but not so at this place! Looking east, you'll have a panoramic photographer's dream come true of a large expanse of the St. Lawrence River, Île d'Orléans (Orleans Island), as well as the city of Lévis across the water.

To your north, Notre-Dame de Québec Basilica-Cathedral and the beautiful (now-oxidized) green dome of the old post office. To your south, about a kilometre and a half is a wide, wooden boardwalk along the river known as the Promenade des Gouverneurs, which will take you to Q-City's famed 300+ stairs and The Battlefields Park.

Even looking down is a treat. First, you can peer down the hill at Lower Town (Basse-Ville). And, below your feet, there are peek-a-boo windows and encasings where you can catch glimpses of the Saint-Louis Fort and Château – the official residence and seat of power for governors from 1620 to 1834, when it was destroyed by fire. Only a few steps down and you're face-to-face with the foundations of the original building and some of the artifacts they uncovered there. A hidden jewel!

The best may be behind you (West): An up-close-and-personal view of Château Frontenac, the gigantic hotel whose iconic and grandiose look is Québec City's most iconic and enduring symbol.

Simply put, Terrasse Dufferin showcases the best of a beautiful city.
Walking Tours in Quebec City, Quebec