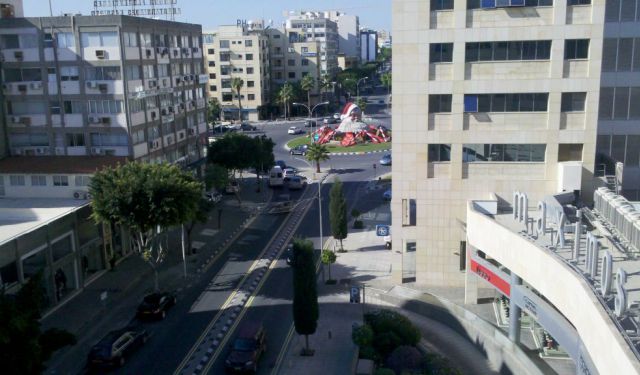 Fashion Rivers Part 1, Limassol, Cyprus (A)
Two fashion rivers are two shopping streets in the center of Limassol. I call them rivers because they're long and just as rivers flow into the sea, these two streets join the sea-front at the end of the way. We start our tour on Arch. Makariou III Avenue, which "flows" across the business center and then into Anexartisias street, the other shopping river running in the oldest part of the city..
This article is featured in the app "GPSmyCity: Walks in 1K+ Cities" on
iTunes App Store
and
Google Play
. You can download the app to your mobile device to read the article offline and create a self-guided walking tour to visit the attractions featured in this article. The app turns your mobile device into a personal tour guide and it works offline, so no data plan is needed when traveling abroad.
Walk Route
Guide Name:
Fashion Rivers Part 1
Guide Location:
Cyprus » Limassol
Guide Type:
Self-guided Walking Tour (Article (A))
# of Attractions:
14
Tour Duration:
2.0 Hour(s)
Travel Distance:
1.6 Km or 1 Miles
Author:
Olga Brus
Author Bio:
I was born in Novorossiysk, Russia, in 1964. In 1971 I went to school, and on getting my Cirtificate I entered Krasnodar Polytechnical Institute. It took me three years to find out that engineering was not in my line and I dropped without regret. In 1998 I entered Pyatigorsk Linguistic University which I graduated from with a diploma of an English teacher. After graduation I enjoyed teaching kids. In 2001 I moved to Cyprus where I'm still living happily with my family.
Sight(s) Featured in This Guide:
Bata
Stephanides
Vassos Eliades
Prince Oliver
Karen Millen
Phillips Shoes
Amicci
Cara
Rococo
Kalogirou
La Perla
Editori
Calvin Klein
Alaloum
1 1) Bata
Bata is housed on the ground floor of a many-story, big complex called Kanika noted for its cafes, bars and restaurants. It's also the starting point of the annual Limassol carnival parade that takes place at the end of February. Apart from made in Italy Bata shoes, known for their good quality at low prices, the shop boasts trendy designs by world famous brands such as Calvin Klein, John Galliano, Iceberg , Fabi – the names which for many people are synonymous with good taste and luxury. The shop offers collections both for women and men of all ages and for all occasions. Here you can also find footwear for your kids; leather jackets, bags, wallets and accessories are always available. The prices are affordable. Keep in mind that in the winter period, that lasts from November 1 till March 31, Bata and most other shops in Cyprus open at 9.00 on Monday, Tuesday and Thursday with the lunch break from 13.00 till 15.00, and close at 19.00. On Wednesday they close at 14.00 and on Saturday at 15.00. The summer period runs from April 1 to October 31. After the lunch break they open at 16.00 and close at 20.30.
2 2) Stephanides
Stephanides is a shop that boasts a lot of famous brands in the world of watches; such as Rolex, Cartier, Boucheron, Vacheron Constantin, Baum and Mercier, Patek Phillipe, Bvlgari and other Swiss manufacturers. Long ago, for the whole world, each of these brand names became a symbol of fidelity and unsurpassed craftsmanship, whereas for the people a watch made by any of these companies is a proof of good taste and its owner's success in life. The shop also offers an exclusive collection of jewelry, gifts and accessories.
3 3) Vassos Eliades
Vassos Eliades Ltd. is the next shop on your way and just a hundred meters from Maximos Plaza, a huge triangle glass and concrete complex that you can see ahead. It also specializes in watches and accessories. Cartier, Ulysse Nardin, IWS, Zenith, Hublot are the names which needn't advertising. The collection of jewellery is not big, mostly by Damiani known for their unique goods in Art Deco style. The staff is friendly, helpful and competent. The prices are reasonable, in accordance with the quality and the label. If you plan to indulge in having a good expensive watch I advise you to do it at Vassos Eliades or in Stephanides, since you will be hard pressed to find a better price for the quality somewhere else. There are plenty of shops in Limassol where you can buy a Swiss watch, but the two we've just visited are the oldest and most respectable in town, and you're sure to have an authentic product.
4 4) Prince Oliver
Prince Oliver is one of the best men's shops in Cyprus. It's located in Maximus Plaza, in a big building called Unicom Tower where the ground floor is completely occupied by boutiques. The designers over at Prince Oliver seem to have taken into consideration all the events that can happen in a modern man's life: work, parties, dating, outings, beaching… The quality is very fine, the major materials are cotton and wool. The men's apparel firm combines modern and classical style in clothes and footwear. Apart from clothes and shoes, you have a chance to buy a new belt and a tie. Knitwear and hosiery are also available. The prices are not at all low, but during holiday sales the shop gives good discounts on all items, including accessories, beach towels and bath robes.
5 5) Karen Millen
Karen Millen is in the same building, to the left of Prince Oliver. It specializes in women's clothes. The store has two levels, the ground floor is for new collections and on the second you can find something left after the previous sales. Although Karen Millen is an Icelandic designer clothing brand, almost all the goods are made in China. I've bought neither shoes nor boots here, so I can say nothing about their quality. However they do look quite stylish and so do the bags. As for the dresses and coats, they are really perfect. I know that for a fact, because I used to buy some at a 60% discount and was more than satisfied. I'm afraid casual style lovers will be a little bit disappointed, since most dresses and blouses are smart casual or evening. But you won't deny that everybody sometimes has a special occasion with a strict dress code.
6 6) Phillips Shoes
In fact, it's one of my favourite boutiques in Limassol. I enjoy the interior, I like the owner, a real lady with excellent manners, and maybe the atmosphere is so pleasant and customer-friendly, that I rarely leave the shop without a purchase. The Pura Lopes Spanish shoes, stilettos or flats, are quite strong and give a long, comfortable wear. You can also buy handbags, belts, as well as Italian and Greek bijoux here. Although the shop specializes in shoes and accessories, you can find some clothes here, but the choice is not big. When choosing a handbag, I recommend Tosca Blue production in the first place. And don't forget to visit the corner with on-sale items, although most prices are affordable without any discount. You can buy a pair of stylish patent leather top boots for less than 200 euros, but they won't look worse than their expensive "relatives" in the shops that we're going to visit next.
7 7) Amicci
If you're a girl who thinks the world to be a big catwalk and you were born to shine on it, let's go to Amicci. The clothes are trendy, the brand names can drive crazy any girl who wants to be a fashion icon. The staff is very friendly, the interior is modern and stylish and favours the shopping experience, especially during sales. Last time I visited the shop, I noticed some famous labels such as Bluemarine, Stella McCartni, Chloe, Ives Saint Laurent. The collection items are brought in limited lots, so you don't run the risk of meeting your "twin" on the street. Men can also find something trendy at Amicci, since the shop has a good collection of Ermenegildo Zegna apparel.
8 8) Cara
Cara specializes in shoes and accessories. This shop is for the ladies who feel absolutely unhappy and can't sleep soundly without a pair of new Moschino, Emilio Pucci or Celine shoes or handbag. The trendiest footwear from the hottest designers is available here. And even if you are not ready to pay 600 euros or more for what you wear on your feet, you must still go there just to see the fresh tendencies in the world of fashion. And who knows, maybe the shop will make you a surprise by offering a good discount on some gorgeous, unique shoes or sandals which will help you conquer the world?
9 9) Rococo
We can get to this shop, if we cross Makariou Ave. The "river' is especially busy around this part and you must be careful when crossing the street. The interior is classic, with wooden furniture and Persian carpets, which make the atmosphere pretty comfortable. All the clothes are trendy and expensive. You're lucky if you come here at the height of sale. Alexander McQueen, Stella McCartni, Westwood... It's very likely that here you'll see the apparel which the day before you fell in love with on Fashion TV. Items like Alexander McQueen evening dresses look more like masterpieces of fashion design than an article of clothing. The staff are helpful and friendly, polite and hospitable, and they're sure to offer you a cup of coffee.
10 10) Kalogirou
Kalogirou is a big, two-storied shop on the left-hand side of Makarios Ave. It's nearly impossible to mention all the brands whose production is presented here. The ground floor is for men. The most popular brands are Salvatore Ferragamo, Todd's, Hogan, Prada. As all the footwear is authentic and made in Italy, it's not cheap. Even on sale don't hope to get more than a 30% discount, whereas in the women's department the sellers are more generous and sometimes give half price. But if you're the sort of man who is not rich enough to buy cheap things, here is the place where you can find the shoes that meet your requirements and will serve you faithfully for many years. The women will be offered shoes of any design, for any occasion, of any color, with heels of any height and shape. It boasts a great number of labels such as Prada, Miu Miu, Casadai, Sergio Rossi and many others. The collection of leather bags is considerable. You can also buy strong and lovely shoes for your kids.
11 11) La Perla
La Perla is the name that many women from all over the world pronounce with special delight. And so do I. No wonder, luxury underwear can make wonders. Although invisible to most people, it may raise the spirits and confidence of any woman, just like a good compliment. La Perla is recognized everywhere as one the best underwear makers in the world. So, the shop is a real paradise for women. Apart from underwear, the store boasts a big collection of nightwear, lingerie and swimwear that's to be found on the first floor. There are also some evening dresses and even women's shoes in the shop.
12 12) Editori
The next shop on Makariou Ave. we'll pop in is Editori. You'll see it behind the small park on your left. Actually, it's one of the shops which I can't help visiting. High-quality goods, modern interior, comfortable fitting-rooms, friendly and helpful staff make this small boutique very popular with females. There are a lot of shops offering famous brand clothes in Limassol, but unlike many others, this one announces stock clearance almost after each sale and if you're lucky to catch one, you'll be stunned by the prices on gorgeous top brand clothes and footwear. Once I saw a stunning Valentino lacy dress in the winter collection, but it cost more than one thousand euros. Probably you won't believe me, but during the next stock clearance the price was reduced to 150 euros! I also noticed a pair of stunning Celine boots for 160 euros, an amazing price for such brand... Apart from the above-mentioned brands, you can find Cacharel, Alice, Hoss and Elisabetta Franch here.
13 13) Calvin Klein
Calvin Klein is the shop for those who need comfortable, simple but good quality casual clothes. By the way, when approaching the store on your left you can see the café Costa Coffee where you can have a short rest. Calvin Klein is both for women and men. It offers a good collection of jeans, sweaters, T-shirts, shirts, jackets. Apart from clothes, you can buy trendy sunglasses and accessories. All items look pretty comfortable. Most of them are made of natural materials. Next to it you see the boutique Byblos, that offers trendy women's and men's clothes of the famous company with the same name.
14 14) Alaloum
The next boutique ahead is Alaloum. It's a small corner shoe shop in Italian style where you can buy shoes and accessories by Versace, for her and for him. Versace footwear is traditionally gorgeous. You won't be able to pay less than 400 for a pair of shoes, unless during sale time. There are also some other Italian labels such as Missoni, Gianmarco Lorenzi, Renato Angi sold at lower prices.

For the other Fashion River - Anexartisias Street, I invite you to Part 2 of our fascinating "fashion river trip".