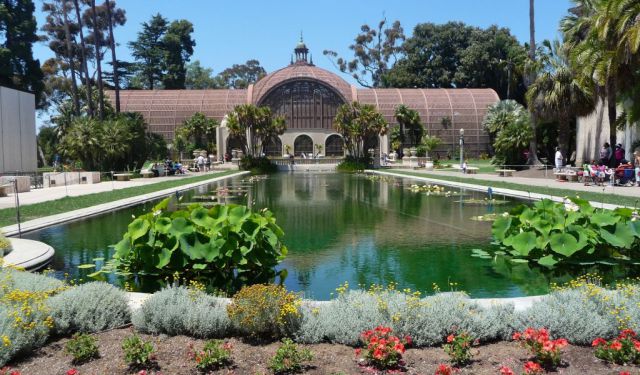 San Diego Balboa Park Walk, San Diego, California (A)
Balboa Park, situated on a bluff overlooking downtown San Diego and its magnificent, natural bay is one of the most spectacular parks in the world. Built for the first World Fair, today, you can stroll along the El Prado pedestrian walkway and visit the Spanish-Renaissance style architecture, and shaded alcoves, with fountains and fabulous street performers in every nook and cranny. Balboa Park is quintessential California at its best.
This article is featured in the app "GPSmyCity: Walks in 1K+ Cities" on
iTunes App Store
and
Google Play
. You can download the app to your mobile device to read the article offline and create a self-guided walking tour to visit the attractions featured in this article. The app turns your mobile device into a personal tour guide and it works offline, so no data plan is needed when traveling abroad.
Walk Route
Guide Name:
San Diego Balboa Park Walk
Guide Location:
USA » San Diego
Guide Type:
Self-guided Walking Tour (Article (A))
# of Attractions:
17
Tour Duration:
4.0 Hour(s)
Travel Distance:
5.8 Km or 3.6 Miles
Author:
Kelly Bowlin
Author Bio:
Kelly Bowlin is a freelance writer based in Southern California. He's written several tour guides and has appeared in Road and Travel Magazine. he's also written 2 novels and a collection of 26 short stories.
Author Website:
http://kwbshorts.utopianrealms.org
Sight(s) Featured in This Guide:
The San Diego Zoo
Balboa Park Carousel
Spanish Village Art Studios
San Diego Natural History Museum
Ruben Fleet Space Center
Museum of Photographic Arts
Botanical Building
Timken Museum of Art
The San Diego Museum of Art
SDMA Sculpture Court and Café
The Old Globe Theater
San Diego Museum of Man
Mengei International Museum
Spreckel's Outdoor Amphitheater
San Diego Auto Museum
San Diego Air & Space Museum
San Diego Sports Museum
1 1) The San Diego Zoo
The San Diego Zoo is our first stop not only because it sits at the north end of the park, but it also provides a great place to park your car, particularly when the park is crowded. I'll go on record as saying this is the most beautiful, and amazing zoo in the world! You could spend an entire day here if you have the time. San Diego's temperate climate makes this a great habitat for animals from all over the world. Don't forget to check out the people, they're pretty amazing too.

619.231.1515

Winter (through April 1): 9am-6pm; Spring Break (April 2–24): 9am-7pm; Spring (April 25–June 23): 9am-6pm; Summer/Nighttime Zoo (June 25–Sept. 5): 9am-9pm; Summer/Fall (Sept. 6–Oct. 2): 9am-6pm
2 2) Balboa Park Carousel
Finally, your chance to go for the brass ring! One of the few remaining Carrousels in the world to still offer the game, the 1910 Balboa Park Carousel, boasts original hand carved European wood horses, pigs and frogs in restored beauty. Also original are the hand-painted murals surrounding the upper portion of the carousel and the music to that is sure to remind you of your childhood.

619-239-0512

11:00-5:00 Mid Summer through Labor Day. Open Sat-Sun and School Holidays
3 3) Spanish Village Art Studios
What better way to enjoy and discover some of San Diego's best artists? Roam courtyards with blooming flowers and 1935 buildings set to resemble an old village in Spain. Home to The San Diego Potter's Guild, Art Glass Guild, Sculptors Guild, Enamel Guild and Woodcarvers Guild, there is bound to be something that catches your eye. The village boasts over 35 artists working and over 200 local sculptors, metal smiths, jewelry designers, clay gourd, glass artists and much more. Just roam around, take in the beauty of watching these artists hone their skills and spend some time discovering how that piece you have to have was made.

Open every day 11-4

Free admission
4 4) San Diego Natural History Museum
The Natural History Museum was founded in 1874, making it the third oldest scientific institutions west of the Mississippi. With a focus on the natural world, you will find mineralogy, flora and fauna reaching both sides of the border of California and Mexico. The museums largest exhibit is the hands on Fossil Mysteries with life size models of prehistoric animals. There are always rotating exhibits on such topics as gems and minerals, Antarctica, Penguins, and for fun, aerial photographs detailing how much the region has changed. My personal favorite is the digital, dolby 3D theater showing breath taking movies such as the turtle reef, finding the ultimate wave to surf and Mexico's Sea of Cortez.

10-5 daily

Adults $17/Sr 15/13-17 $12/under 12 $11
5 5) Ruben Fleet Space Center
The Fleet Space center is a fun filled day for the kids of all ages. With over 100+ interactive science exhibits and rides, this museum evokes the imagination. There are always traveling exhibits that ask you to "Do Touch' to fully experience the teaching of scientific principles. The Virtual Zone is a 23 passenger motion simulator ride and the IMAX Dome Theater is the Worlds first with original ocean footage that is so real and grand, be careful not to get sea sick. There is a planetarium show on the first Wednesday of each month, seven galleries of exhibits and the North Star Science Store boats educational toys, games, books and IMAX DVD's.

619.238.1233

Mon-Thurs 10-5/Fri 10-8/Sat 10-7/Sun 10-6

Adults-$10.75/Kids and Srs $8.75

With IMAX movie $14.50/11.75 (1 feature)
6 6) Museum of Photographic Arts
One of the few institutions in the country devoted to the photographic arts, the Museum of Photographic Arts houses more than 7,000 works, including Ansil Adams and Edward Weston. It represents the entire history of photography, including its aesthetic movements, and technological advancements. Illustrating the complex and varied history of the medium, the museum's collection is particularly strong in modern and contemporary work, specifically social documentary photography and photojournalism. The museum is also home to a state-of-the-art movie theater.

619.238-7559

Tues-Fri 11.00-4.00

Weekend 11-5

Closed Mondays
7 7) Botanical Building
Ok, this is where you come to truly enjoy and take in all the beauty of Balboa Park. The view of the Botanical Building, is one of the most photographed scenes by tourists. It was built in 1915 for the Exposition and is 250 ft long. It is one of the largest wood lath structures still standing in the world. It is an open-air conservatory is filled with over 2,100 species of tropical plants under the dome's lath ceiling. There's a "touch and smell" garden for the kids, including Venus Fly traps and you'll find the gardens a cool treat filled with exotic aromas. Enjoy the lily pond out front as you watch the children play, painters set up their easels, and sun worshipers bask in the tranquil setting.

Free to the Public on Fridays-Wednesdays 10-4

Closed Thursday
8 8) Timken Museum of Art
An extraordinary European art collection for free. Considered to be a world class museum, it houses the collection of the Putnam foundation, which grew from the desire of two sisters, Anne and Amy Putnam. You will find over 60 pieces of artwork, mainly paintings, set in three distinct areas: 18th and 19th American Art, European old masters and Russian icons. Rembrandt, Bruegel, Baptiste-Camille, Singleton Copley, Eastman, and Rubens are just a few displayed in this white marble building, itself a work of art by architect Frank Hope, Jr. While this is a small museum, it's size just makes the exhibits more personalized and stunning to see upclose.



619.239.5548

Tues-Sat 10-4 Sun 1.30-4.30/ Closed Mondays

Always Free
9 9) The San Diego Museum of Art
One of San Diego's leading architects, William Templeton Johnson designed this 1925 building, inspired by motifs from the Cathedral of Valladolid and the Hospital de la Santa Cruz of Spain. The exterior itself is a work of art with life sized sculptures of Spanish painters, Zurbaran, Murillo and Belazquez. Inside you will find a significant collections of old masters, nineteenth and twentieth century European and American art. With a reputation for it's collection of Spanish baroque painting and the largest holdings of Asian Indian paintings-outside of India, it would be a shame if I didn't mention works by O'Keeffe, El Greco, Rivera, Eatkins, Johnson, and de Goya to name a few. With a permanent collection of 14,000 items, there is only a portion of this displayed at one given time, giving way to traveling displays and a change in exhibits throughout the year.

Tues-Sat 10-5/Sun 12-5/ Closed Mondays

Adults 12.00/Srs 9.00/ kids-4.50-free

Resident Free Tuesday
10 10) SDMA Sculpture Court and Café
Located in the SDMA's May S. Marcy Sculpture Court, the Café is a perfect watering hole stop the middle of the tour. If you're not ready for the full fledged meal you'll find the Prado restaurant nearby, enjoy a chicken wrap, light salad and glass of wine at this unique eatery. With a view of the Plaza de Panama, eating among sculptures by Henry Moore, David Smith and Louise Nevelson, you are surrounded by beauty while enjoying a European style bistro.
11 11) The Old Globe Theater
The Old Globe is part of a three-theater complex that also includes an outdoor stage and a small round theater. This too was part of the 1935 exposition that Balboa Park preserved. Built to be a replica of Shakespeare's Globe theater, it is today, California's oldest professional theater that has been home to Tony Award winning and numerous Broadway bound plays over the year. It produces 15 plays and musicals yearly and is known for it's Summer Shakespeare Festival. In fact if you get a chance, go inside and you will be able to see a beautiful bronze bust of Shakespeare. Besides, everyone wants to be able to say they saw a play at the Globe.

619.23-globe

Check for times
12 12) San Diego Museum of Man
Another example of majestic Spanish colonial and mission style architecture, the museum is housed in a 1915 building beneath the 200 ft California Tower. You might recognize the exterior of the building as part of the mansion in Citizen Kane. In the front, you will find carved figures sucj as Father Jumipero Serra, Spainish king Charles I and Juan Cabrillo. Dedicated solely to anthropology, its featured exhibits include the Maya tribes, ancient Egypt, Footsteps through time-the 4 million years of evolution of man, Native Californians and the popular Children's interactive Discovery Center. Doesn't matter who you are, there is always a fascination with Egyptian mummies and artifacts and don't miss the life size replicas of Cro-Magnon and Neanderthal. Across the street, you will find more displays and the museum store.

619.239.2001

Adults/12.50/Sr 10.00/Children$ 5-8.

10-4.30 Daily
13 13) Mengei International Museum
This captivating museum (pronounced "Min-gay," meaning "art of the people" in Japanese) offers changing exhibitions generally describable as folk art. The exhibits -- usually four at a time -- encompass artists from countries across the globe; displays include textiles, costumes, jewelry, toys, pottery, paintings, and sculpture. The permanent collection features whimsical contemporary sculptures by the late French artist Niki de Saint Phalle, who made San Diego her home in 1993. Martha Longenecker, a potter and professor emeritus of art at San Diego State University, opened the museum in 1978. It is one of only a few major museums in the United States devoted to folk crafts on a worldwide scale and well worth a look. Allow up to an hour to view the exhibits; there's also a wonderful gift store that's worth a visit on its own. An Escondido branch has additional exhibits.

(619) 239-0003

Open Tue-Sun 10am-4pm

Adults $7/Srs $5.00/Kids $4.00
14 14) Spreckel's Outdoor Amphitheater
One of largest outdoor organs in the world and housed in a breathtaking ornate building with Grecian style colonnades, this has to be one of the best ways to spend a Sunday in Balboa Park. Brothers John and Adolph Spreckels' gift to San Diego is a 10,000 pound, 4,518 pipe, wonder. The Organists are renowned worldwide, such as Dr Carol Williams since 2001and play a range of music for a hour free concert! Remember to bring some shade in the summer, as this is an outdoor amphitheater.

Concerts, Sun. 2:00–3:00 p.m.; mid-June–Aug.

International Summer Organ Festival Mon. 7:30 p.m.

(619) 702-8138

Free every Sunday at 2pm (check first)
15 15) San Diego Auto Museum
I go for the muscle cars-Mustangs, Corvettes, Chevelles, and Camaros to name a few. Beauties! Even if that isn't your thing, with over 80 cars and motorcycles to choose from ranging from vintage, classic and rare, you will find an automobile to fit your fancy or fantasies. Rolls Royce to Mercedes and to the almost futuristic Delorean, these cars are like works of art. A must see is Louie Matter's $75,000 1946 Cadillac that was outfitted with for a cross country trip with a such essentials as a washing machine and a Turkish water pipe.

(619) 231-2886

Open Daily 10am-5pm

Adults $8.00/Srs $6.00/Kids $4.00

Fourth Tuesday free for residents
16 16) San Diego Air & Space Museum
While this museum is one of the favorites among kids, it has something for everyone. An affiliate of the Smithsonian, you will find a worldwide collection of aircraft and space craft that include over 60 exhibits including a model of a hot air balloon from 1763, to the Actual Apollo 9! Included is the barnstormer era of the 1920's, air combat of World War I, military aircrafts of various wars including World War II and Vietnam and the only real GRS satellite on display. The Spirit of St Louis, is part of the local aviation history and is showcased along with mint condition Navy F6F Hellcat. There are hands-on simulators and other interactive displays to be enjoyed. Housed in the historical Ford building from the 1935 expo, it is a beautiful testament to man's great aviation achievement.

(619) 234-8291

Sept-May daily 10am-4:30pm; June-Aug daily 10am-5:30pm

Residents are free on Tues.

12 and over- $16.50/Sr $13.50/Under 12yrs $6.00
17 17) San Diego Sports Museum
This is the largest museum dedicated strictly to sports in the nation. With almost 70,000 sq ft and three levels, there is something for every sports enthusiast. There are over 25 exhibits encompassing such traditional sports as basketball, golf, baseball and football or extreme sports like surfing, biking or skiing. Hall of Fame, with over 104 members, has exhibits include Bass Fishing, Best Ever athletes and Legends. A particularly nice display is dedicated to athletes with disabilities or challenges.

San Diego, Ca. 92101

HOURS: 10am to 4pm Daily

Phone: (619) 234-2544
Walking Tours in San Diego, California
Useful Travel Guides for Planning Your Trip
--- Souvenir Shopping Guide: 14 Gifts That Say San Diego
San Diego is known for its beautiful, temperate climate, but you can't take the weather home with you. If you want a piece of San Diego as a souvenir, it's best to shop with the natives. Whether it is made locally or just made famous locally, following are 14 perfect gifts that capture the...