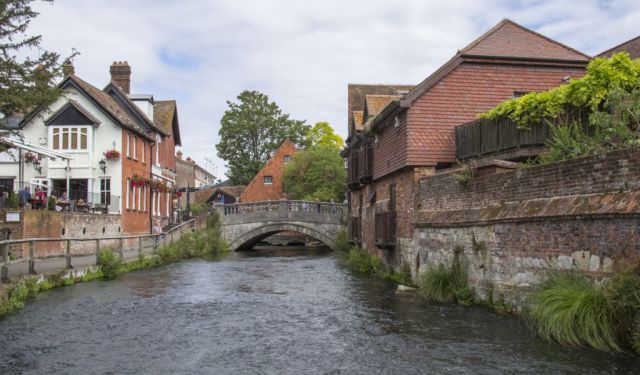 England, Winchester Guide (B): Exploring the Historic Waterways of Winchester, England
As I made my way across the water meadows of the River Itchen I found it difficult to believe I was not far from the city centre of Winchester. I was surrounded by leas of lush grass and thickets of trees. Beyond these I occasionally glimpsed the sparkle of water in the river. I was following in the footsteps of the poet Keats who found inspiration walking here when he stayed in Winchester. Once upon a time, thousands of years ago, the River Itchen flowed through the centre of what is now Winchester. The Romans, skilled in engineering, altered the river flood plain and diverted the River Itchen further to the east. They also drained the land so that the town could be extended eastwards, allowing them to build over the former marsh. Just ahead of me, bathed in sunshine, were the beautiful medieval buildings of St Cross Hospital and the Almshouses of the Noble Poverty. 

St Cross is not a hospital in the sense we understand the word today. The word derives from hospitality, the offering of food and shelter to those in need. Its Grade 1 listed buildings, dating from 1132, include the oldest almshouses still operating as such. Today, they provide individual, private apartments for a community of twenty-five elderly men. These men are known as Brothers and they wear black or red gowns and a trencher hat to attend a daily church service and on other formal occasions. The church, an impressive Norman Church is situated in the inner quadrangle of the Hospital. Close to the church are a classic medieval hall, a kitchen and a Tudor cloister. Another ancient hall in the outer quad houses a tea room (open in the summer) and the Porter's Lodge Shop. Visitors are welcome to this place of privacy and retreat.