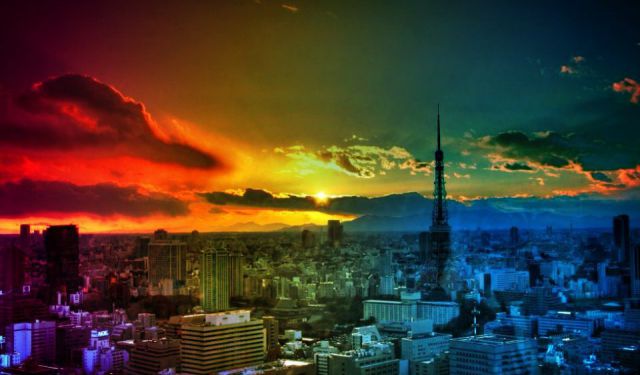 Japan, Tokyo Guide (D): 21 Eclectic Bars in Tokyo
Time to tap glasses and share laughs in Tokyo, a city of wondrous variety!  In this app is an insider's guide to 21 drinking bars, and places nearby that are worthy experiences (theatres, shrines, parks, shopping, etc).  Each bar offers unique vibes for all types.  From a classic Japan ambience to a hipster setting, your Nihon escapade awaits. Depending on how well-rounded you are, you may be able to enjoy all 21 eclectic bars in legendary Tokyo!
This article is featured in the app "GPSmyCity: Walks in 1K+ Cities" on
iTunes App Store
and
Google Play
. You can download the app to your mobile device to read the article offline and create a self-guided walking tour to visit the attractions featured in this article. The app turns your mobile device into a personal tour guide and it works offline, so no data plan is needed when traveling abroad.
Attractions Map
Guide Name:
21 Eclectic Bars in Tokyo
Guide Location:
Japan » Tokyo
Guide Type:
Self-guided Walking Tour (Article (D))
# of Destinations:
21
Sight(s) featured in this guide:
•
The Bar Base
•
The Night Watch
•
The Orange Room
•
The Gate Hotel Kaminarimon
•
DearStage
•
Alchemist
•
Nana (Golden Gai district)
•
Dubliner's Irish Pub
•
Good Life Lounge
•
San Francisco Peaks
•
Hub British Pub
•
300 Bar
•
Tip Top
•
Havana Cafe
•
Milwaukee Bar
•
Cona
•
GoldenBowl
•
Sugahara
•
Enjoy! House
•
What the Dickens!
•
Soul Sonic Boogie

Author: Steven LeFever
Author Bio: Steven LeFever is from Guam. After high-school, he went to California State University, Long Beach, to study communications and theatre. After graduating, he wrote his first novel, BEAUTiFUL ESCAPADE, a slipstream fiction available at lulu.com. He later moved to Japan to teach English. He then co-created Tasty English, a YouTube series of comedic short films that teach English idioms. He is still in Japan, teaching, working on his second novel, and creating more independent film.
Author Website: http://Http://www.stevelefeve.tumblr.com
1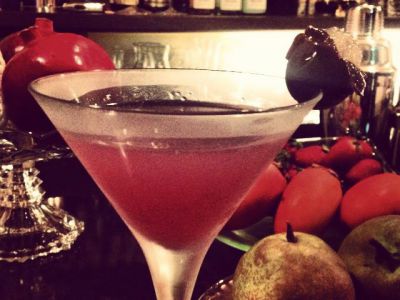 1) The Bar Base
First on the list is The Bar Base because the bars are listed in order from the northernmost bar to the southernmost. To the east of Ikebukuro station, find this spot in a building on the second floor of a very attractive district.  It's ambience is quite simple, but you may be delighted by the nostalgic jazz, properly dressed bartender, friendly Japanese patrons, and most importantly, the drinks.  They have a wonderful selection, like the Japanese whiskey (Chichibu and Taketsuru, made by...
2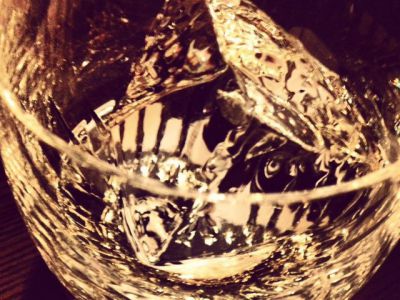 2) The Night Watch
Go to the 7th floor of Royal Plaza II on the west side of Ikebukuro station, and enter The Night Watch, a bar dedicated to Rembrandt, Netherlands' finest painter.  It may seem like you've entered 17th century Europe because of the baroque atmosphere.  Classic violin and piano plays.  It's dark with subtle illumination along the replica paintings and other collections of the man in honor.  The finest of utensils are showcased in a glass case, with some used for food, drink, and...
3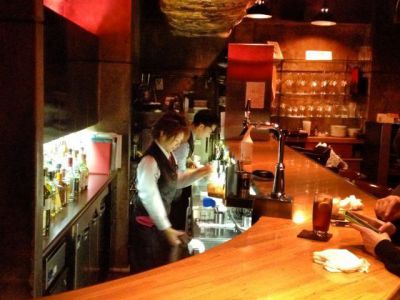 3) The Orange Room
There are three fantastic things about the Orange Room. One is the music: old school everything.  Old school rock transitions smoothly to blues...to jazz...and onto the next classical groove that can set the tone of your conversation.  Another great thing is that it's not too orange.  The themed color blends cleverly with a ruby red throughout this swanky, comfortable venue served by well-dressed people.  And third, the drink selection.  You name it, they most likely have it, and will...
4 4) The Gate Hotel Kaminarimon
Ride up to the 13th floor of the Gate Hotel in Asakusa and you will be graced by a spectacular chandelier, and a 270° view of the city.  Live classic piano is played in this nicely lit, proper establishment.  Such elegance is definitely fit for a date.  I recommend getting a table out on the terrace, where the guests seem more casual.  You'll be greeted by a nice zephyr floating about, but if it's too cold, heaters and blankets are available.  Look to your bottom left to catch a...
5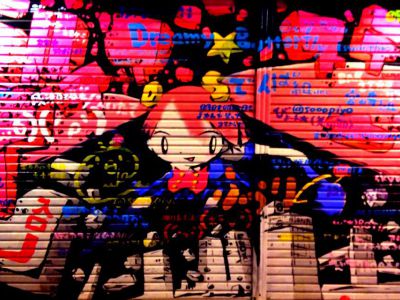 5) DearStage
To the west of Akihabara station, find this 3-story building on a sidestreet.  An interesting nightspot indeed. One you should definitely experience whilst in Japan, especially if you have otaku interests/curiosity.  Entrance fee is 1000 yen plus a drink.  You'll find yourself surrounded by cute Japanese girls all dressed in anime and American character cosplay.  If you come at the right time, you'll even catch girls on the bottom floor performing anime songs in pop-idol fashion....
6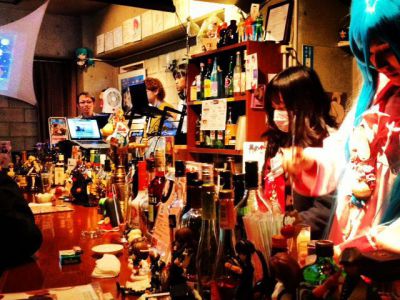 6) Alchemist
To the east of Akihabara station, down a secluded street, and up a couple flights of stairs, you'll find Alchemist (アルケミスト), another bar with an enjoyable dose of otaku nature.  Much smaller and more relaxed than DearStage, with less girls and guests.  Yet, the place maintains Akihabara's famous anime theme, perhaps even moreso in some aspects.  Along the bar, you'll see an eclectic assortment of manga figurines.  Feel free to look around, mingle for 700 yen an...
7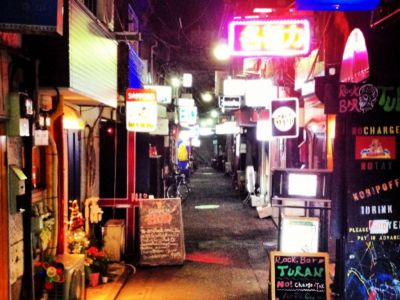 7) Nana (Golden Gai district)
Named after the original owner, a Japanese woman.  Nana was in love with flamenco music, as she influenced that passion in her bar.   She opened it 50+ years ago, being one of the oldest in the world of Golden Gai, a concentrated area with ramshackles of over 200 bars.  This mysterious and intriguing place is definitely an experience worth having in Shinjuku, let alone Japan.  Many of the bars add on a cover charge, but Nana doesn't.  The current owner, Ens, a patron of Nana's...
8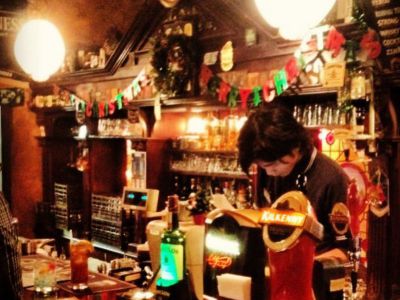 8) Dubliner's Irish Pub
I've listed a chain British pub (Hub), so it'd balance out if an Irish pub was added as well.  On the Eastside of Shinjuku train station (the busiest station in Tokyo), walk into the first street, and dip into The Dubliner's Irish Pub.  It's very spacious and live.  You'll see all types of foreigners and natives mingling about, so flow with the crowd and find new companions.  St. Patricks is celebrated all year round, making the place quite green (and brown due to...
9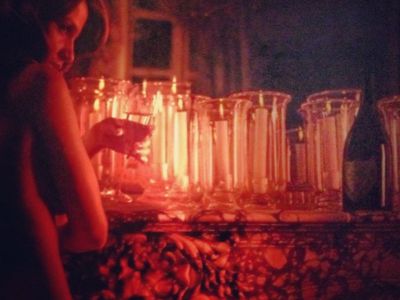 9) Good Life Lounge
About a 7-minute walk from Harajuku station, you can catch a good time at the classy Good Life Lounge.  This rectangular bar on the second floor can vibe you on with its chill music: a prime selection of reggae and island.  At about 9pm, the dj turns it up to all types of beats, mainly hip-hop.  There's very comfortable seating next to the wide windows, hence it also being a lounge.  Saunter around to see the paintings, with many of the art including Hennessy bottles.  Last order is at...
10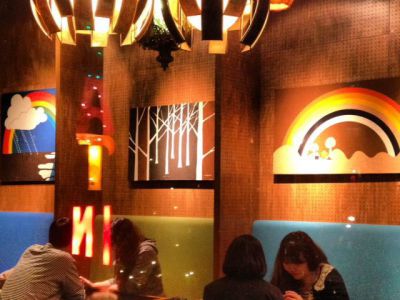 10) San Francisco Peaks
On the outskirts of Harajuku, dip into San Francisco Peaks: an authentic take of the Bay Area fused with the essence of Tokyo.  If you've never been, stop by to get a feel of the unique lifestyle.  Groove to soulful jazzy hip-hop and enjoy the atmosphere, as all the colors around seem to perform in unison, including some bright-seating and nature-themed artwork that embellishes the SF spirit.  Observe the 1970's hippie photos along the stairway to get to the bar balcony: a nice...
11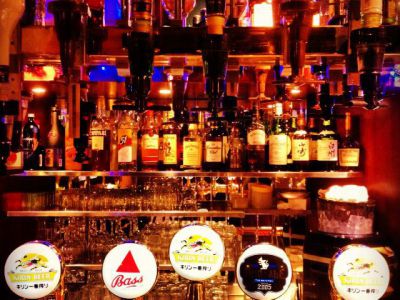 11) Hub British Pub
Southeast of Harajuku station, you can find Hub.  Actually, you can spot the chain franchise all thoughout Tokyo, but this particular location is featured because of Harajuku being one of the best shopping districts in the world.  In between your shopping excursion, swing by Hub for happy hour (4 to 7pm).  It has a relaxing ambience that is much quieter than Dubliners (the other chain pub being featured).  The specials price from 190 to 440 yen: a nice selection of drinks like mojitos, soco...
12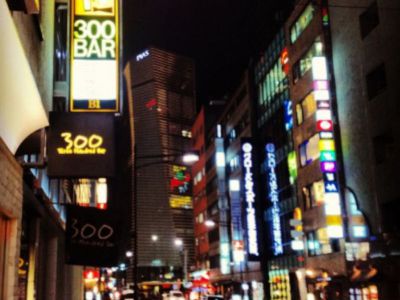 12) 300 Bar
About a 15-minute walk from the emperor's palace (be sure to take a tour during the day!), walk southeast from Yurakucho station in Ginza, and find this spot, where everything is 300 yen!  It's a can't miss standing-bar, especially if you're single to mingle.  It's been long known that this is the place to hook-up, as long as you're a gentleman.  They play some really good r&b which complements your courage to start conversation.  If you're not looking...
13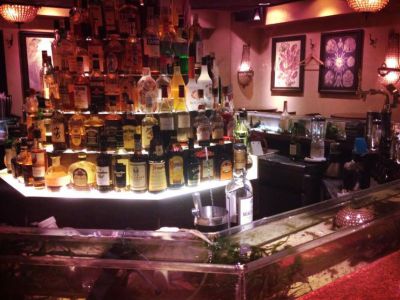 13) Tip Top
Enjoy the much more mellow side of Roppongi at Tip Top, an octagon-shaped bar with an open-top aquarium.  Aquatic life always puts you in a good vibe, yes?  Besides that, it's interestingly themed towards being in a ship during the age of exploration.  Classic nautical-type art is displayed all about, making it feel like you are floating on the ocean venturing towards the next unknown continent.  With the exception of a few regulars, this bar doesn't seem to receive a lot of...
14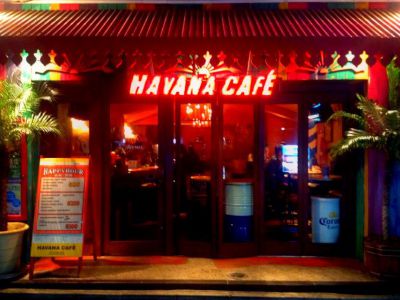 14) Havana Cafe
Right down the street from Tip Top, you'll find Havana Cafe, a spacious cuban-themed bar with an amazing happy hour.  Surprisingly, not a lot of people seem to flock to this opportunity.  From 4 to 7 pm, get a mojito for only 300 yen!  If you like tequila, try a mexicola for only 200 yen, or a glass of wine for the same price.  Or if you want to keep it classy (without the extravagant price of class), gin and tonics are a whopping 100 yen.  Yes, you heard right.  The list goes on. ...
15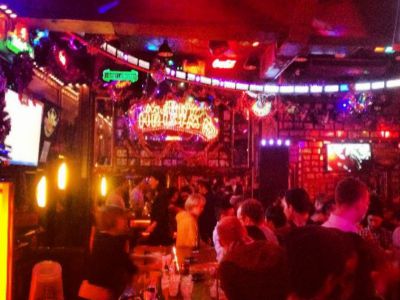 15) Milwaukee Bar
Here's the district for the party animal.  Roppongi is infamous for being Tokyo's party central, where Gaien-Higashi-dori, the main strip, could give you an overwhelming hype, so if you're not down with that, you might want to visit Tokyo Tower to the east, or the mellow Irish and English pubs close by.  Be sure to dodge the flock of people trying to get you in their strip club.  If this IS the recipe for you, start your Roppongi night at the Milwaukee Bar.  It has a nice...
16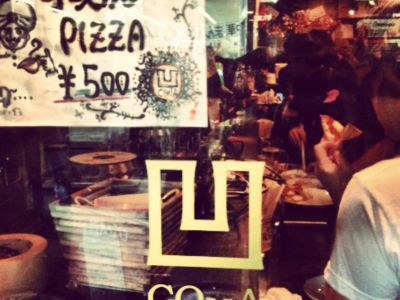 16) Cona
Good pizza in Tokyo seems to be hard to find, so come to Cona in Shibuya for delicious pies at only 500 yen.  Most drinks and foods are the same price, with sangrias for 350!  Time to get friendly in this narrow standing-bar.  That shouldn't be a problem, as they invite you and your friends to bring the energy via sociable music and the "High Tension Please!" tagline ("High tension" is translated to be a good thing in Japan).  It may get packed on the weekends,...
17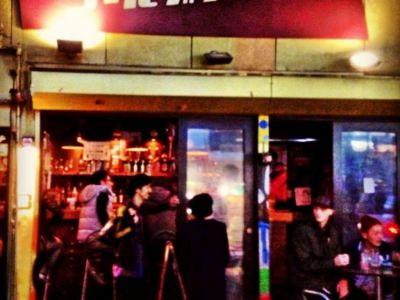 17) GoldenBowl
This is definitely a place the tourist usually wouldn't hear about.  GoldenBowl (showcased in katakana as ゴールデン ボール) is a small local spot, and is featured because of their great takoyaki and yakisoba.  The yakisoba is a cut above most that you will find, and the takoyaki is rooted in the way Osaka makes them: the birthplace of these delicious delights.  And the drinks cannot be beat, with many that cost only 400 yen.  I recommend a highball: whiskey and liquid gold...
18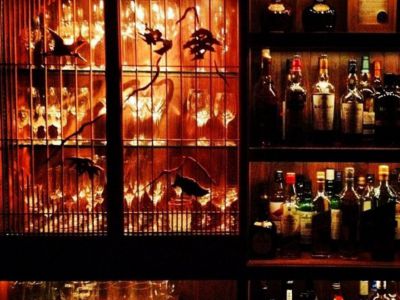 18) Sugahara
Sugahara (すがはら) bar is a way to experience traditional Japanese class, even before you enter.  Walk through a bamboo-filled pathway, go past the shoji (Japanese style door), take your shoes off, and find yourself in this intimate bar.  Look around and notice the Nihon nuances.  The prices are a bit on the high-end, but I'd recommend this place for the exclusive couple, or a group of 6.  They have special private rooms for both respective parties upstairs (1000 yen table-fee for...
19 19) Enjoy! House
Hipsters unite in Ebisu!  Go about 6 minutes northwest from the station and discover Enjoy! House, a very funky kickback spot.  It's a prime example of a cool and comfortable place.  There's a lot to admire: pieces of art, balloons, plants, christmas lights, novelty items, all eclectically scattered about.  Turn the cheek and catch a surprise.  Random, yet real.  The feel has a groovy take on contemporary Japanese culture.  It's a bit outside of the main streets, so...
20 20) What the Dickens!
What the what?  The Dickens!  Only a 3-minute walk from Ebisu station, head northwest into the vibrant streets, and catch a goodfeel crowd in this British pub.  It's the most intimate compared to the other two chain pubs featured in this app (Hub and Dubliners), with another Dickens! in Shibuya.  One remarkable facet is the mix of age and ethnicity: young people, older people, an excellent guy/girl ratio, Japanese and foreign, all having a ball on these two floors, in groove with the...
21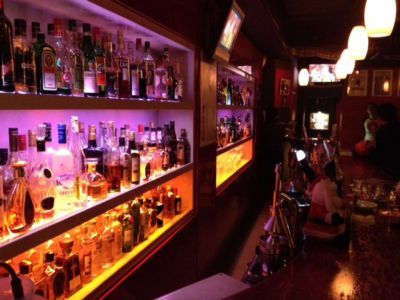 21) Soul Sonic Boogie
Bring yourself back in time by heading west of Ebisu train station.  The music and ambience make this place.  Songs here are lovely: Blues, jazz, oldschool r&b, rock&roll, accompanied with music videos (most of them black-and-white live performances).  You will be delighted at what comes on, and I wouldn't be surprised if you sing along.  Great place for couples, or with someone you're trying to get to know.  You can even choose your choice of soul via the jukebox.  SSB...
Useful Travel Guides for Planning Your Trip
---