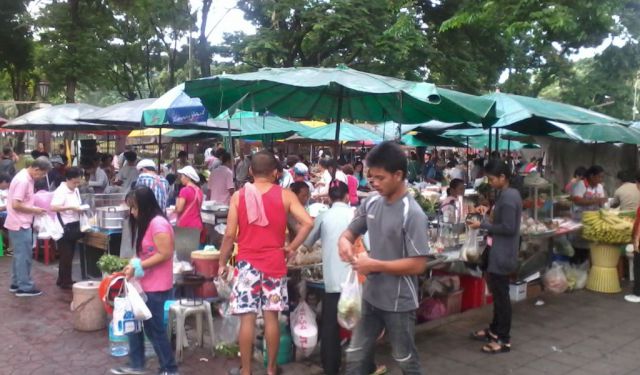 Fast Food for Foodies, Bangkok, Thailand (D)
So you're in central Bangkok and looking for a culinary thrill? You don't have to go up, up and away to pricey top-of-the-city (literally!) restaurants like Lebua at State Tower's Sirocco or Banyan Tree's Vertigo and Moon Bar to enjoy fine, five-star-caliber dining. In fact, you don't even have to leave the sidewalk!
This article is featured in the app "GPSmyCity: Walks in 1K+ Cities" on
iTunes App Store
and
Google Play
. You can download the app to your mobile device to read the article offline and create a self-guided walking tour to visit the attractions featured in this article. The app turns your mobile device into a personal tour guide and it works offline, so no data plan is needed when traveling abroad.
Attractions Map
Guide Name:
Fast Food for Foodies
Guide Location:
Thailand » Bangkok
Guide Type:
Self-guided Walking Tour (Article (D))
# of Attractions:
10
Author:
Jeremy Helligar
Author Bio
: Jeremy Helligar is a pop culturist and world traveler from New York City, where he spent 15 years working as a staff writer and editor for People, Teen People, Us Weekly and Entertainment Weekly. In 2006, he moved to Buenos Aires, where he learned Spanish and launched his own blog, a travelogue, memoir, entertainment bible and "Sex and the City" rolled into one. Based in Melbourne and Bangkok since 2011, he's currently circling the globe, planning his next travel adventure.
Author Website:
http://www.jeremyhelligar.blogspot.com
Sight(s) Featured in This Guide:
Sunday Morning Market at Lumpini Park
Convent Road
Silom Night Market
Breakfast Row at Sathorn and Narathiwat
Narathiwat Road, from Sathorn to Silom
Thanon Pan at Silom
Oasis
Narathiwat Soi 6 Sidewalk Cafes
Siam Paragon Ground Floor Food Court
Central World Food Court
1 1) Sunday Morning Market at Lumpini Park
If running around Lumpini Park at the crack of dawn doesn't sound like your idea of starting the day right, get ready for the biggest guilt trip in Bangkok. Every morning, as a procession of fitness freaks and marathoners-in-training circle the green oasis in the middle of sex-and-sin city, dozens of independent vendors set up food stalls in the area surrounding the park that extends from the sidewalk outside of entrance/exit 5 to the plaza just before entrance/exit 7, catering to early risers and the sweaty masses with and without exercise on the mind. If you opt to indulge on site, you'll have a perfect view of joggers burning calories while you consume them. Oh, the guilt! Sunday (beginning around 6am) is the big morning for this outdoor mom-and-pop food court and grocer rolled into one, with pre-prepared and made-to-order Thai food, freshly squeezed orange juice and various sweet treats on sale, and fresh fish, meat, fruits and vegetables on the raw menu for foodies who'd rather burn calories in their own kitchens, cooking up tasty delights in the comfort – and coolness – of home.
2 2) Convent Road
Most weekday afternoons around lunch time the area along the right side of Convent Road from Silom Road to Sathorn Road becomes an outdoor food aisle, with a variety of vendors offering simple meals and snacks – chicken and rice dishes (with cucumber slices on the side), soups, noodles, pineapple chunks, sweet treats and more – to eat in (using the makeshift dining-room set-up along the sidewalk) or take away. More traditional restaurants line the strip of Convent from the Silom end to BNH Hospital, too, but if you're looking for a local dining experience at an Irish pub called Molly Malone's, you're definitely in the wrong city.
3 3) Silom Night Market
One of the best things about Bangkok is that there's no last call or closing time when it comes to finding cheap food that tastes like five-star cuisine at 3am after you've stumbled out of the bars and night clubs in the red-light district around Silom Road. Beginning in the area adjacent to Silom Soi 2, vendors cater to late-night revelers and compete with the 24-hour Burger King (and judging from the crowds that flock to them, they usually win), offering Thai soup, omelettes over rice and balls of assorted meats on a stick, all of which taste even better with a buzz. But be careful: Booze goggles might improve not only the looks of the new acquaintance on your arm, but the cooked insects – worms, cockroaches and other assorted creepy-crawling creatures, all farmed rather than caught in their natural habitats, on and under dirty sticky floors all over town – that have died and come back as nighttime treats.
4 4) Breakfast Row at Sathorn and Narathiwat
The early bird catches both the worm and the street food for sale after sunrise on Narathiwat Road right off of Sathorn Road. The vendors line up on the sidewalk along Narathiwat beginning at the southeast entrance to the overhead pass leading from street level to the other side of the already nearly traffic-jammed Sathorn and to the Chong Nonsi BTS Skytrain station, and they spill over into a covered food court across the street from Bangkok City Tower. Thankfully, the unimpressive interior design in the food court is no reflection on the food. If you close your eyes and take a bite – of strips of chicken and cucumber slices over white rice, spicy soups, noodle concoctions and pretty much everything you never thought you'd be craving at this hour – you'd swear you wandered into one of the best restaurants in town while the AC is on the blink. Though the chefs here rise, shine and depart relatively early (by lunch time), don't come looking for eggs and bacon with toast on the side. (You will, however, find freshly squeezed orange juice for 25 baht – or just under one dollar – sold by the cheerful teen tapping on his smart phone, right next to the banana stand.) In Bangkok, the first meal of the day tastes a lot like the last one. So go ahead and order pre-packaged chicken or pork and rice and pretend like it's already afternoon – only you'll have a good six hours more to work off those calories today.
5 5) Narathiwat Road, from Sathorn to Silom
When the morning shift departs from one side of Narathiwat Road off of Sathorn Road after breakfast, a new food crew arrives across Sathorn to ensure that Bangkok doesn't go hungry for long. The set-up is looser than other clusters of street-food vendors elsewhere in the city center, with fewer regulars holding court and feeding the crowds in the same spot on a daily basis, but the constants are the conventional indoor eateries in the area near the Chong Nonsi BTS Skytrain (The Eat Restaurant, with its simple menu of chicken or fish and rice or pasta dishes, is one of the best) and the quality of what everyone is serving. The street-food highlights are the artery clogging fried chicken (80 baht, or about $2.70, will get you two thighs and two drumsticks) and the bags of pineapple chunks for 20 baht ($.70). Sundays can be pretty dead around here, but on every other day of the week, this is one of the few places in the area where passersby can grab a yummy bite during those off dining hours between late afternoon and dinner time.
6 6) Thanon Pan at Silom
Tired of breaking your bank account with rich meals at upper Silom Road's five-star establishments like Sirocco in Lebua at State Tower? Craving a between-meal treat that doesn't come from one of the 7-11 convenience stores on nearly every corner? Or do you just want to experience eating in Bangkok the way many locals do, outdoors and free of pomp and circumstance? The row of street-food vendors where Thanon Pan intersects Silom Road offers snacks like chicken skewers and fresh fruit for a fraction of what you'd pay for them as restaurant appetizers or in supermarket produce departments, and they still taste just as good – if not better, since a bargain is as good as any condiment in spicing up food. Though the ambiance around midday is hot, bustling and ramshackle, the take-away here offers not only a quintessentially traditional Thai food experience, but thanks to the money you save, the possibility of splurging later on a $20 Hangovertini, 63 floors above Bangkok's hot streets at Lebua's Sky Bar. The drink is named for "The Hangover Part II," the film that inspired it, which was filmed, in part, on Lebua's 63rd floor.
7 7) Oasis
Every weekday at around noon, the Sathorn and Silom districts' working masses descend upon Oasis, an indoor food court right next to the Chong Nonsi BTS Skytrain station under Empire Tower that's set up like the ones in Bangkok's biggest shopping malls. Upon entering, you obtain a card from a cashier at one of several pay stations after adding as much money to it as you want to spend at the stations, most of which do not accept cash. (You can use the leftover money on the card on your next visit.) There's a combination of cafeteria-style stations serving meat, chicken, fish, carbs and vegetables as well as fruit and desert stands and vendors offering full menus of made-to-order selections, most of which are in Thai and English and won't set you back more than 100 baht ($3.30). The best and arguably most popular one prepares spaghetti and strips of breaded chicken with lemon sauce and tomato and meat sauce for 80 baht ($2.70) that will make you want to come back every day. (Look for the guy behind the grill and the line of hungry patrons watching him.) Most of the business people who lunch here eat in the large dining area, but the Oasis chefs cater to the take-away crowd, too.
8 8) Narathiwat Soi 6 Sidewalk Cafes
"Bangkok gives a whole new meaning to the term 'street food,'" the actress Kristin Scott Thomas said when she was in town filming "Only God Forgives" with Ryan Gosling and director Nicolas Winding Refn, and nowhere is this more evident than in the al fresco eateries along Narathiwat Road near Soi 6. They aren't actually restaurants at all but portable kitchens set up along the sidewalk with table seating that's covered by umbrellas when it gets too hot or too rainy (which pretty much means every day and night). One shift of restaurants operates early in the day, and around sunset these are replaced by another line-up of sidewalk "restaurants" selling cocktails and full Thai meals (mostly featuring grilled chicken) that are as tasty as anything you're likely to buy 25 meters or so away from Soi 6, at The City Viva mini-mall's Villa Market grocer or any of the indoor eateries next to it.
9 9) Siam Paragon Ground Floor Food Court
Siam Paragon isn't just Bangkok's premiere super mall and its most exclusive one, too, worthy of its own BTS Sky Train stop. It's also the site of the capital's best food court. For those craving the predictable, plenty of Western fast-food brands (KFC, Dunkin Donuts, Au Bon Pain, Dairy Queen and McDonald's – two of them!), not to mention a liquor store, a gourmet supermarket and money changers offering much better currency-exchange rates than you'll get from your hotel, have set up shop on Siam Paragon's ground floor, as have numerous sit-down-dining eateries worthy of a Michelin rating. But it's the street-food stations in the middle of the culinary action that sets Siam Paragon's food court apart from every other shopping break in town. The possibilities are endless: chicken skewers for 20 baht ($.70) each, grilled or barbecued, hot or spicy, or dipped in gold (not really – that's just the tantalizing hue of the finished product). Be sure to do your shopping first because once you've eaten, the upscale ready-to-wear glamor brands upstairs might seem positively drab in comparison.
10 10) Central World Food Court
Fast food for foodies in a room with a view. On the top floor of the Central World super mall, behind the gourmet grocery store, the high quality and tastiness of the made-to-order meals served at each food-court station might actually make you forget to admire the view of Bangkok down below, even if you're lucky enough to grab one of the coveted seats along the window. Fish or chicken and rice, soup and a large glass of roselle juice will set you back about a mere 85 baht ($3), leaving you with plenty of money to splurge in the mid-range retails stores below.
Useful Travel Guides for Planning Your Trip
--- Top 15 Things to Buy in Bangkok
Well-made, local products not only remind people of the trip they've had, but also make great gifts to bring home to family and friends. Following is the list of original and representative of Bangkok local specialties that you might wish to consider as a memorable... 7 Places in Bangkok for Superb Street Food
Eating is huge in Bangkok, and luckily for the famished, you won't be that way for long, regardless of the hour. You can find conglomerations of vendors selling five-star fast food (in the you-won't-have-to-wait-long-to-enjoy-it sense, not McDonald's style) for under 100 baht (roughly...