Nuremberg Free Walking Tour (Old Town), Nuremberg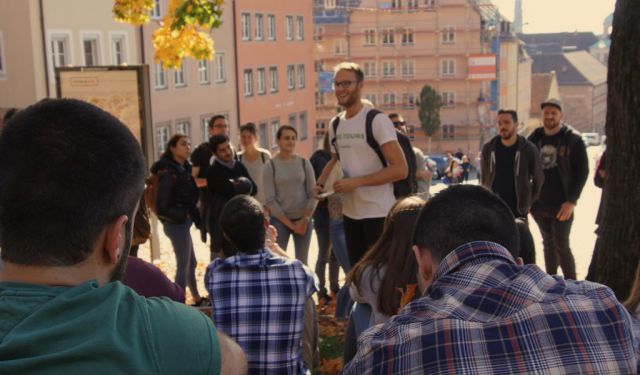 On this tour you will hear interesting stories about the history of Nuremberg. You will learn about the emperors of the Middle Ages, discover its Renaissance richness and feel the strong contrast between the dark burden of the Nazi-era and the modern multi-cultural times. It is the perfect mix of historical information, fun facts, practical tips and the opportunity to meet other travelers. Saturday tours include a lunch-break where you get the chance to try some Franconian sausages, Sauerkraut or even beer. We look forward to meeting you in Nuremberg!
Tour Information
Tour Name:
Nuremberg Free Walking Tour (Old Town)
Location:
Nuremberg, Germany
Duration:
2.5 / Hour(s)
Distance:
4.00 Kilometer(s)
Price:
Free
Price Notes:
The tour is for free. If you did not like it or can't afford the amount suggestet as tip, feel free to give less or nothing.
Included:
Main Sights of the inner city.
Free sweets.
Not Included:
Lunch.
Personal Expenses.
Season:
Jan, Feb, Mar, Apr, May, Jun, Jul, Aug, Sep, Oct, Nov, Dec
Tour Schedule:
Wed, Fri, Sat, Sun at 11:30
Attractions Visited on This Tour:
Hauptmarkt (Schoener Brunnen, Frauenkirche).
City Hall and dungeons.
St. Sebald Church.
Empereors Castle.
Albrecht Duerer Monument.
City Wall.
Rock Caverns.
Troedelmarkt and Henkerssteg.
Weisser Turm.
Street of Human Rights.
National Germanian Museum.
St. Lorenz Church.
Contact This Guide
Use the form below to arrange booking of this trip directly with the guide. You can also use this form to:
Ask questions
Inquire availability
Receive offers