Alexandria Day Tour (Archeological), Alexandria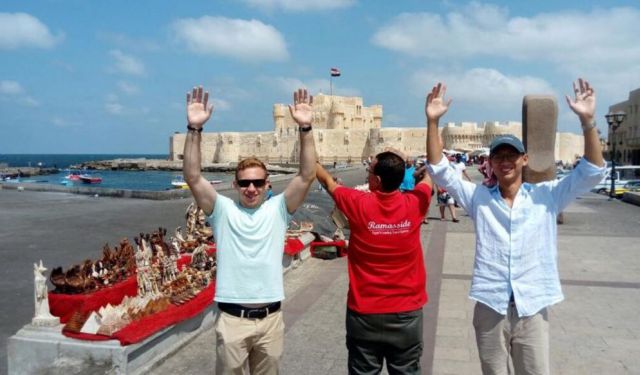 First visit during this tour is the insides of the Catacombs of Kom El Shokafa, which are the largest Roman Cemetery consisting of three levels cut in the rock. Then you will drive to visit the Roman Amphitheater of Alexandria with the display of the sunken monuments of Alexandria, discovered under the East harbor of Alexandria. You will also drive by Pompay's Pillar and stop for a photo stop. Next stop will be the library of Alexandria; the biggest library in the world – now with 8 million books. You will visit it's open court, where you can see the statue of Alexander the Great and the statue of Ptolemy the first, which was found underwater nearby. You will also visit the library's manuscripts museum, president Saddat Museum and impressions of Alexandria Museum. After the car will take you to visit the church of St. Mark – the oldest church in Africa. During the drive you will see the old downtown and the local historical architecture which has baroque style designs and Italian and French style properties. Another attraction is the El Nabi Daniel Mosque, which is believed by many people to be related to Alexander the great tomb. Optional you can have lunch at a modern Fish Restaurant or a famous and traditional Alexandrian food place called Mohamed Ahmed's. After lunch the car will take you to visit the prettiest and biggest mosque in the city: the Abbo Elabbas Mosque, and the strangest sight outside it: an old funfair where children play on very antique funfair rides and eat candy floss. Other highlights of the tour include Quaitbay castle, gardens of Montaza, royal gardens of King Farouk and the Royal Palaces of Haramlek and Salamlek, bridge of Stanley and many more. Come with us to uncover this fantastic city!
Tour Information
Tour Name:
Alexandria Day Tour (Archeological)
Location:
Alexandria, Egypt
Duration:
7.0 / Hour(s)
Price:
115 USD / Per person
Price Notes:
2- 3 Persons 80$/per person.
4-6 Persons 75$/per person.
7-10 Persons 70$/per person.
Included:
Entrance fees.
All transfers by air-conditioned vehicle.
Expert tour guide.
All service charges and taxes.
Not Included:
Any extras not mentioned in the itinerary.
Season:
Jan, Feb, Mar, Apr, May, Jun, Jul, Aug, Sep, Oct, Nov, Dec
Tour Schedule:
Mon, Tue, Wed, Thu, Fri, Sat, Sun at 09:00
Attractions Visited on This Tour:
Catacombs of Kom El Shokafa.
Pompay's Pillar Photo stop.
Roman Amphitheater.
The library of Alexandria Manuscripts museum.
Castle of Kaitbey inside.
Old harbour of Alexandria.
El Nabi Daniel Mosque related to Alexander the great tomb.
St. Mark - the oldest church in Africa.
The old city-center of Alexandria.
Abbo Elabbas Mosque.
Site of the Lighthouse; one of the Seven Wonders of the Ancient World.
Montaza Gardens and the Palaces.
Stanley Bridge.
Contact This Guide
Use the form below to arrange booking of this trip directly with the guide. You can also use this form to:
Ask questions
Inquire availability
Receive offers