Venice Free Walking Tour (City Tour), Venice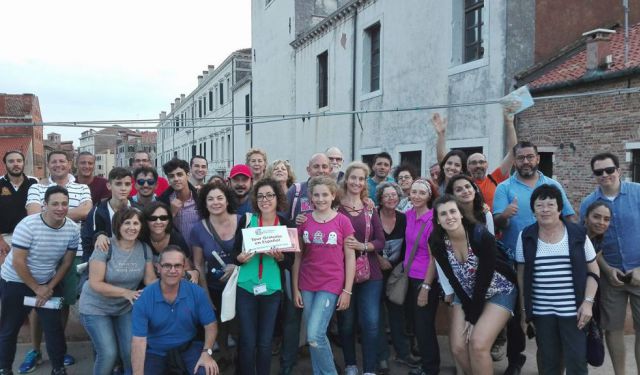 Venice is a sensational city located in northeast Italy, famous for its architecture and art, as well as the series of canals separating the 118 small islands on which it was built. On this tour we will come up with guidelines about some of the main touristic attractions, such as Saint Mark's Square, the Rialto Bridge, the Rialto Fish Market, and the islands of Murano, Burano and Torcello. We will tell you the stories behind some of the most famous Venetian religious and lay festivities, including the Carnival, the Historical Regatta, the Redeemer Festival and the Festa del Bocolo (The Festival of the Rosebud). With us you will discover what acqua alta (high water) significates, why is Venice in danger of sinking and what are the perspectives of survival of the city on the lagoon. Nevertheless, we will tell you where to find the best local restaurants (osterie or bacari), where you can taste the Venetian cuisine.

Every walking tour is a different adventure, but we assure you that, during our walking tours, we will provide you with valuable historical and geographical information about the city of Venice.
Tour Information
Tour Name:
Venice Free Walking Tour (City Tour)
Location:
Venice, Italy
Duration:
2.5 / Hour(s)
Price:
Free
Season:
Jan, Feb, Mar, Apr, May, Jun, Jul, Aug, Sep, Oct, Nov, Dec
Tour Schedule:
Mon, Tue, Wed, Thu, Fri, Sat, Sun at 10:00
Mon, Tue, Wed, Thu, Fri, Sat, Sun at 16:00

Contact This Guide
Use the form below to arrange booking of this trip directly with the guide. You can also use this form to:
Ask questions
Inquire availability
Receive offers