Vienna Tour (Hitler´s Vienna), Vienna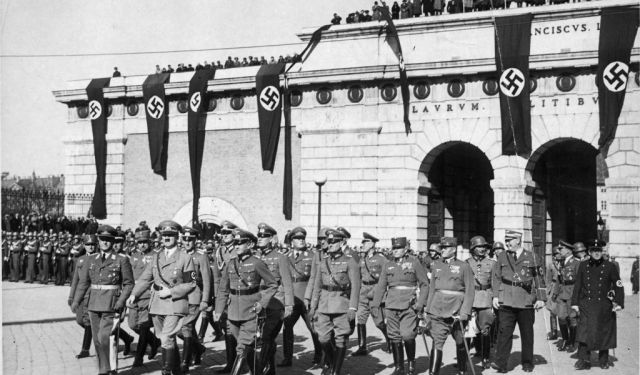 Vienna, the capital and largest city of Austria, is also called Europe's cultural capital. On this walking tour you will gain insight into what, where and why it all happened. Find out what and who influenced the young Adolf Hitler's mind, hear and see the impact of 53 bomb attacks with more than 100.000 on the city, learn what happened to the once enormous Jewish community of the city, see the only Synagogue that would survive the Nazi regime, and visit the Holocaust memorial. The guides will tell you how Vienna was divided after the war, why it was the only city in the world where the Allied Powers managed a zone together, and why a Heroes' Monument of the Red Army remains in the city to this day. We will stop by major historical landmarks and after this tour you will have profound insights into the darkest days of our history. The "Hitler's Vienna" walk is not to be missed!

We would like to ask you politely for absolute punctuality – please be there 15 minutes before tour starts. If you don´t make it on time, we will have to leave without you, otherwise it would be very uncomfortable for other guests and also for the guide.
Tour Information
Tour Name:
Vienna Tour (Hitler´s Vienna)
Location:
Vienna, Austria
Duration:
2.5 / Hour(s)
Distance:
3.00 Kilometer(s)
Price:
21 EUR / Per person
Season:
Jan, Feb, Mar, Apr, May, Jun, Jul, Aug, Sep, Oct, Nov, Dec
Tour Schedule:
Mon, Wed, Sat at 14:30
Attractions Visited on This Tour:
•Heroe's Square - The location where Hitler announced the annexation of Austria.
•Holocaust Monument - Commemorating the victims of the Austrian Jewish Community.
•Academy of Fine Arts - The university where Hitler wanted to study arts.
•Monument against war and fascism - Modern monument recalling terrible times.
•Jewish Quarter with the only Synagogue that survived the Nazi regime.
Contact This Guide
Use the form below to arrange booking of this trip directly with the guide. You can also use this form to:
Ask questions
Inquire availability
Receive offers