Prague Castle and Castle District Tour, Prague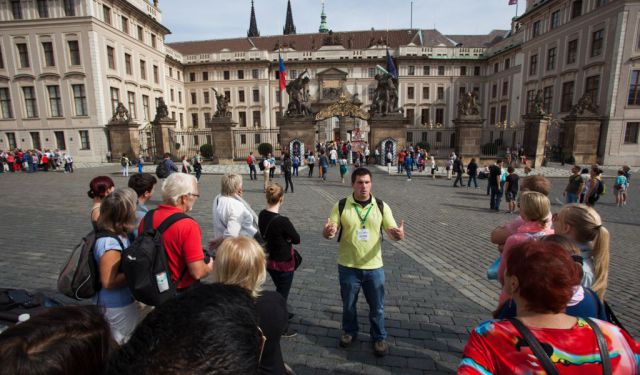 Prague Castle has been an important symbol of the Czech state for more than a thousand years. During this tour the history will captivate your mind. You will see original examples of Romanesque, Gothic and Renaissance architecture standing shoulder to shoulder, like the many soldiers who have guarded the grounds. If the walls of those buildings, churches and gardens could talk, they would tell stories ranging from 9th century monarchs to modern day politicians. Your guide will tell you details about defenestration and about role the Castle played through world wars and peaceful revolutions. We will make your tour simply unforgettable!
Tour Information
Tour Name:
Prague Castle and Castle District Tour
Location:
Prague, Czech Republic
Duration:
3.0 / Hour(s)
Price:
13 EUR / Per person
Included:
Private bus to the Castle.
Season:
Jan, Feb, Mar, Apr, May, Jun, Jul, Aug, Sep, Oct, Nov, Dec
Tour Schedule:
Mon, Tue, Wed, Thu, Fri, Sat, Sun at 14:30
Attractions Visited on This Tour:
Prague Castle, Lesser Town, Castle District, Strahov Monastery, Černín Palace, Loreto, Castle Square, Schwarzenberg Palace, Mathias Gate, TGM statue, courtyards, St. Vitus Cathedral, St. George Basilica, Golden Lane, John Lennon Wall, Charles Bridge.
Contact This Guide
Use the form below to arrange booking of this trip directly with the guide. You can also use this form to:
Ask questions
Inquire availability
Receive offers