Prague Essentials Tour, Prague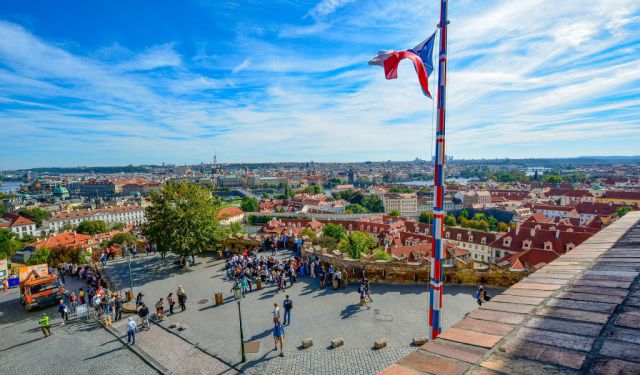 Prague, the capital and largest city of Czech Republic, is a beautiful city with historical monuments of great importance. The tour starts at the main entrance to Prague Castle, where you will get briefly introduced to the 1000-year-old history of Bohemia. You will have the chance to explore the first, second and third courtyards of the complex passing through such gems as Saint Vitus Cathedral, Old Royal Palace and the Basilica of St. George. Then we will walk down the castle hill and stroll along the river surrounded by pearls of Baroque architecture and unusual works of modern art. After we will enter Charles Bridge and you will be amazed by its fascinating facts and local legends. The tour will continue through the narrow streets of the Old Town, where you will enjoy the rich architecture and history of the Old Town Square and stroll in the direction of the beautiful Powder Gate, the beginning of the Royal Route. The tour will conclude by the Powder Gate, in the center of Prague (5 minutes from Wenceslas Square and Old Town Square).
Tour Information
Tour Name:
Prague Essentials Tour
Location:
Prague, Czech Republic
Duration:
3.5 / Hour(s)
Price:
64 EUR / Per person
Season:
Jan, Feb, Mar, Apr, May, Jun, Jul, Aug, Sep, Oct, Nov, Dec
Attractions Visited on This Tour:
Prague Castle, Prague Lesser Town, Charles Bridge & Old Town.
Contact This Guide
Use the form below to arrange booking of this trip directly with the guide. You can also use this form to:
Ask questions
Inquire availability
Receive offers