 10 Things To Do In Corfu, Greece
Greek Islands, such as Mykonos, Rhodes, Corfu, Santorini, and many others, are a popular destination for people trying to escape the chaotic lifestyle back home. Corfu is one island that has it all: great weather, tasty food, relaxed atmosphere and an abundance of places to explore. The island itself is extremely diverse in both its nature and its culture. The environment on Corfu is one which allows beautiful beaches to be accompanied by lush greenery throughout. The culture of Corfu is very diverse, derived from the many nations that made it their home, each one having left its mark on the place, including even the British with a cricket pitch. There are many things to do in Corfu so if you're pushed for time, or even if you have plenty, here are some of the top things to do in Corfu.
---
1. Climb Mount Pantokrator If you feel like taking a break from lazing around on the beach and swimming around Corfu's beautiful coast, then consider conquering Corfu's highest mountain. Mount Pantokrator is 2927 feet high and is situated on the north east of the island. Group walks are available, but you can also adventure up the mountain by yourself. If you don't feel like walking, you can always drive as there are roads leading along the foothills right to the summit. At the summit, you will be greeted by a little bit of history in the form of a monastery built in the 1300's and right next door something more modern in the form of a café. Whichever way you decide to climb Mount Pantokrator, views from the top allow you to see the whole of Corfu and parts of Albania - a truly magnificent sight.
---
2. Explore the Historic Old Fortress Corfu Town If you really want to understand how diverse Corfu's culture is, you only have to look at the history that's been left behind. Corfu has two fortresses. If you can't visit both, then Corfu's old fortress is a must. The fortress is of Venetian construction and is believed to have been built around the 1500's. The scale and design of the fortress is such that, during wartime, residents could stay on the inside, protected from invaders, who came in their numbers. Due to Corfu's strategic position many empires have attempted to breach the fortress and it even successfully defended against all three Ottoman sieges.
---
3. Gaze at Artistic Wonders in the Royal Palace The palace is known as St. Michael's and St. George's Palace, built between 1819 and 1824. Currently the Royal Palace is home to the Museum of Asian Art, holding over 15,000 pieces of artwork from private collections. The collection of the museum is a lot older than people realise, being founded back in 1928. The palace is located in the heart of Corfu town directly overlooking the cricket pitch built by the British, another symbol of how diverse Corfu is.
---
4. Coastal Adventures: Hire a Speed Boat Corfu has an amazing coastline, with hidden coves, underwater caves and calm waters to snorkel or simply relax in. One of the best ways to explore the hidden part of Corfu's coastline is by speedboat. These are great value for money and you can take the whole day to explore at your own leisure. You will be pleasantly surprised about how far you can go on one tank of fuel. You can have lunch on board or pull into one of the many Tavernas. The many hire companies dotted around the island will give you a great idea of what to explore in that area.
---
5. Visit Albania Albania is situated on the mainland and directly next to Corfu Island, the closest point being the North East of Corfu. Day trips from Corfu to Albania are readily available and tour operators will ensure you have a great trip, taking groups to see some of the main sites. Usually guides will take you into the main city of Saranda where there are plenty of shops and cafes to explore. The main area which Albania is famous for is the UNESCO World Heritage Site of Butrint: an ancient town occupied since prehistoric times. There is a lot of history here and the site is one of the many great reasons to visit Albania. When travelling to Albania even for the day ensure you carry a passport and identity card as there are strict border controls in place.
---
6. Walk the Corfu Trail Like many islands Corfu has its own trail from one end to the other, starting near Kavos in the south all the way to Saint Spyridon in the north. The trail itself is over 220 Kilometres long and the scenery changes dramatically from one end to the other. Many walkers have conquered the entire length, not on one day, of course, but there is plenty of opportunities to walk it over a week holiday if you're into that sort of thing. Even joining the trail at particular points close to your place of staying makes for a great day's adventure. Just make sure you bring a map and plenty of water.
---
7. Explore an Underwater World Diving As mentioned previously, Corfu has an amazing coast and the waters surrounding that coast are just as amazing. As you can imagine part of Corfu's culture is out on the water and experiencing the world under the waves is something you must do. There are many dive centres in Corfu that run courses and training to allow beginners to go Scuba diving in the sea, and there are plenty of excursions for beginners too. If you're a more seasoned diver, you can expect adventure around sunken wrecks, reefs and hundreds of different species of sea life. The opportunity to experience Corfu's waters doesn't just lie in grabbing your scuba gear: there are plenty of opportunities to snorkel around the rocky coast and there is plenty to see.
---
8. Achilleion Palace If you love culture and history then you must visit Achilleion Palace, a beautifully majestic building depicting the mythical warrior Achilles throughout. The building was constructed in 1890 by Empress Elisebeth of Bavaria just after the death of her son. Elisebeth or Sisi as she was better known was fluent in Greek and was obsessed with the Greek culture, which can be seen throughout the palace. Achilleion is situated just around 7 miles outside Corfu town, and is easily accessible by car or public transport. The gardens of the palace are one of the feature parts of this building and give glorious views over Corfu.
---
9. Island Hopping Island hopping is something that happens naturally in Greece, with so many small islands to explore you must make it your goal to go and enjoy a little bit of paradise. When visiting Corfu, the two Islands which are especially popular amongst tourists are Paxos and Antipaxos. Paxos is the larger of the two islands and is covered in olive trees and hidden pathways. There is still plenty of life on the island and you can easily find yourself relaxing in a Taverna. Antipaxos is much smaller and is known for its sandy beaches, and quiet nature. Both islands have great coastal caves to explore and many of the ferry tours will take you into these as part of a visit. Make sure you bring your camera!
---
10. Vlacherna Monastery and Mouse Island You may have seen lots of pictures of Corfu and pictures of Vlacherna Monastery would have probably popped up at some point. Images of this building depict a certain simplistic charm and it is certainly a place you can enjoy for an hour or two. This is a women's monastery, built in the 1600's, with a jetty leading up to the small rocky islet where the building sits. Make sure you also watch the planes taking off, as the runway is very close by. It's also worth visiting Mouse Island which is located just a short boat ride away from the Monastery. The story of Mouse Island is that it is actually the Odysseus's boat stoned by the Greek God Poseidon. Although you can't walk around on the island, admiring it from the waters is certainly worth it.
---
Author Bio:
Dean Lissaman is a Devon England based travel blogger who loves to write about travel for everyone to enjoy. You can find him exploring the open moorland and South West countryside or discovering new places around the UK and Europe. Read more at
Life Out The Hive
.
---
Get GPSmyCity App for IOS or Android
You can read offline thousands of travel articles like this one in the "GPSmyCity: Walks in 1K+ Cities" app on
iTunes App Store
or
Google Play Store
. The apps also offer city offline maps and GPS navigation to guide you to the places featured in the articles.
Walking Tours in Corfu, Greece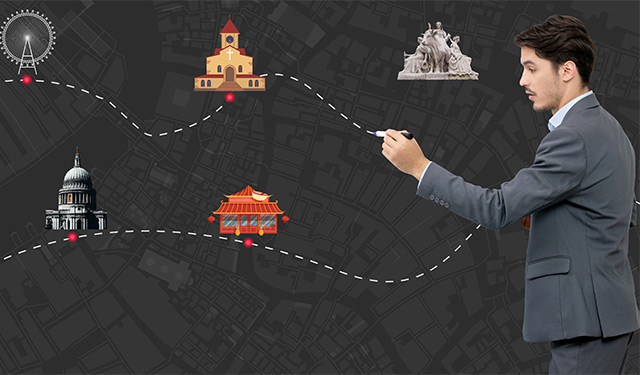 Creating your own self-guided walk in Corfu is easy and fun. Choose the city attractions that you want to see and a walk route map will be created just for you. You can even set your hotel as the start point of the walk.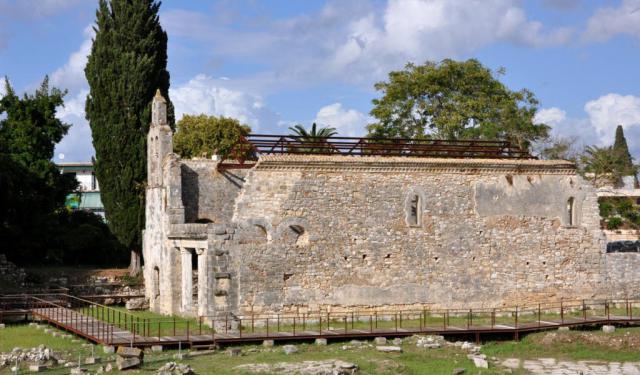 The Archeological sites trace the history of ancient Corfu from the 8th century BC to the 6th century AD. The Temple of Artemis Gorgon, located near the monastery of Agoi Theodori Stratias, dates from circa 590 BC. The pediment is thought to be the oldest stone pediment found.
Artemis, in the form of Gorgon, is running as she faces the observer. Her children, Chryssaor and Pegasus, are by her...
view more
Tour Duration:
2 Hour(s)
Travel Distance:
3.9 Km or 2.4 Miles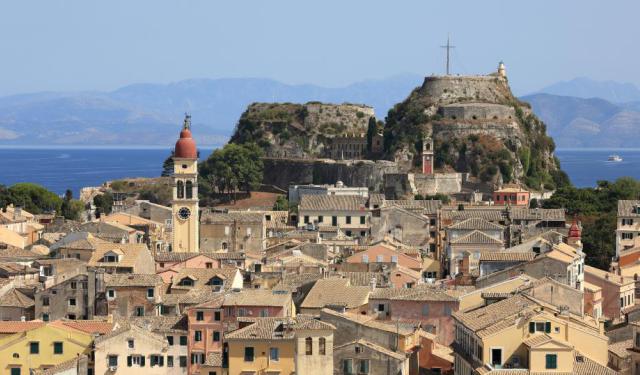 Poseidon, the god of the sea, was obsessed with the beautiful nymph Korkyra, the daughter of the river god Asopus. Poseidon abducted Korkyra and carried her off to an unnamed island. He called the island Korkyra, after his lady love. This island later became Corfu.
The medieval castles on the island tell of struggles in the Middle Ages against invaders like Roman-era Germanic tribes, Arabs, and...
view more
Tour Duration:
1 Hour(s)
Travel Distance:
1.4 Km or 0.9 Miles