 Delhi Shopping Tips: 16 Indian Goods To Bring Home
Singling out a thing or two for a gift from India, in general, and Delhi, in particular, is a tough job indeed, for this part of the world is rightly reputed to be the treasure trove of all things exciting. Spices, exotic food, jewellery, objects of art, oriental fashion... The list can be long. Here are some gift ideas to help you make up your mind.
---
1. Embroidered Handbags Delhi is a shopper's delight. When you do decide to pay a visit to Delhi, don't forget to pick up embroidered designer clutches and hand-bags. The artisans render the Indian touch to these bags by way of authentic fine thread embroidery. To make it all jazzy, these craftsmen make use of beads, pearls and laces to make sure that your handbag shines through and stands out in the crowd.

Based out of Delhi, Favola has its own creative team, which generates designs and patterns for their hand-made handbags. The fabric used are pure brocade, velvet, silk and cotton. The USP of these handbags and clutches is the heavy embroidery done over them. The makers use a whole range of beads, crystal work, threadwork and sequence work to make the bags look elegant. These are available in different shapes. You can either go for a normal box-shape clutch/handbag or a potli-shape handbag, which is a rage among collegiates. The standard size of a handbag is 27cmsX 5cmsX 9cms.
Where to find it:
Price- Rs 1500-3500
Favola
Address: W - 138/10, Anupam Garden, I. G. N. O. U. Road, Shadulazab Extension, New Delhi, Delhi - 110 068, India
Phone: +91 11 2953 4010
Monday to Friday
Timings: 10am to 6pm
Buy It on Amazon:
Offline reading and travel directions:
With GPSmyCity App you can read this article offline on your mobile device, use the embedded offline city map and GPS navigation, as well as create a self-guided walk to visit the venues featured in the article.
---
2. Silver Handicraft Delhi is famous for its local silversmiths, who expertise in silver art, like silver tea set, silver jewellery and showpieces. Belirams is a renowned name of trustworthy family-run old silversmiths, who have been creating silverware, silver art and craft famous for design and craftsmanship. Their silversmiths are expert in using these age old, traditional, cost effective and swift manual design. They also reproduce ethnic, antique, design and craftsmanship silverware in all Indian traditional and classic models. You can opt for a large Kali Mata Head Ganesha (a Hindu deity). It is an ethnic and antique finish production. Made of resin sterling, silver with an anti-tarnish finish, it is an ideal display décor. The gross weight of the piece is 3700 grams. The statue is Anti-tarnish and will last you long.
Where to find it:
Price- Kali mata head Ganesha statue- Rs 20,800: Dimensions (9.5x8x6 ) inch.
Other silver items- Depends upon the item you choose to buy. A jug and
tumbler (a set of six glasses) could set you back by Rs 1.41lakh
Belirams
Address: ATM-2, Ground Floor, The City Square Mall, Rajouri Garden, New Delhi - 110 027, India
All days open
Timings: 12.00am to 9.00pm
Offline reading and travel directions:
With GPSmyCity App you can read this article offline on your mobile device, use the embedded offline city map and GPS navigation, as well as create a self-guided walk to visit the venues featured in the article.
---
3. Meenakari and Kundan Jewellery If you are an ornament junkie, visit the walled city of Delhi for pure Meenakari and Kundan jewellery. Delhi is one of the best places in India to shop for exclusive and stunning meenakari and Kundan pieces. Meenakari is a popular Indian jewellery art, which evolved during the 16th century and is still one of the most desired forms of Indian jewellery. Kundan, which has been primarily used in the early days in making jewellery, is now also used for designing accessories.

Meenakari is an art of coating a piece of metal with colors. The Meenakari work on a piece of jewellery enhances its beauty. In addition to the golden jewellery, meenakari work is also done on silver and copper jewellery.
Where to find it:
Price-Rs 2200- 9000
Titu Jewellers, shop No.268
Address: Dariba Kalan, Chandni Chowk, New Delhi - 110006, India
Phone: +91 99 1041 3238
Monday to Saturday
Timings: 10am to 8pm
Buy It on Amazon:
Offline reading and travel directions:
With GPSmyCity App you can read this article offline on your mobile device, use the embedded offline city map and GPS navigation, as well as create a self-guided walk to visit the venues featured in the article.
---
4. Attar Come and experience locally made authentic attar (perfume) which will remind you of Delhi every time you wear it on and step outside. It is natural perfume oil derived from botanical sources. True attar is perfume oil made from flower petals distilled in water using low heat and pressure. Some attars also contain exotic woods, spices and resins. Over several weeks, the steam containing the fragrance oils is collected into a container of mild sandalwood oil. There, the oils are blended together until the sandalwood is completely saturated with the fragrance of the flowers.

Gulabsingh Joharimal is a 200 year old shop in the walled city of Delhi. They are the only family in Chandni Chowk dealing in 'Attar' (unadulterated and pure flower essence). Established in Delhi in 1816, the shop specializes in natural oils and incense oils. Each attar variety takes up at least two month's hard work. You can make your choice according to the climate, as each season has its own fragrance; khus (poppy seed) is a favourite during summer months and henna during winter. The range of 'attars' is vast. From Jasmine to Rose, Lavender, Strawberry, Opium, Cherry, you get it all here under one roof. The present owners have diversified a little and now deal in Essential Oils for aromatherapy and sell incense sticks in two natural (non-synthetic) fragrances – sandalwood and pacholi.
Where to find it:
Price- natural oil - Rs2000 for 10 gram
Blended oil- Rs 120for 10 gram
Essential oil- Rs30 for 10gram
Gulabsingh Johrimal, shop no.320
Address: Dariba Kalan, Chandni Chowk, Delhi - 110006, India
Phone: +91 11 2327 1345, +91 11 2328 1345, +91 98 1113 1890
Open on all days except Sunday
Timings: 9.30am 7pm
---
5. Local Spices Delhi houses Asia's largest wholesale spice market, boasting all kinds of spices known to man. Delhiites take great pride in their spices and spice food, and never go out without carrying some spices in their bag. Khari Baoli is always bustling with people and the market is jam-packed with a plethora of shops. You will be flooded with a variety of commodities ranging from nuts to spices to herbs. You can catch a glimpse of shopkeepers loading their wares from the large sacks and displaying the objects, the shoppers and buyers haggling and bargaining over prices, the rattle of the objects, and the clamor of the crowds. You will encounter a wide array of spices. They sell all kind of spices at wholesale price. From important Indian spices, like turmeric, cumin, chili powder, to ground mixtures of spices, such as 'Garam masala', a blend of Indian ground spices, you name it, you get it.

Shree Shyam and Dry Fruits is one shop, which deals in both dry fruits and spices. The shop is huge and offers a vast variety of spices to choose from. You can also pack dry fruits from the same shop. All the items here are offered at wholesale price, which effectively means that the item you buy here is cheaper as compared to the market price of the same commodity.
---
6. Lac and Glass Every woman in the world would love to wear 'lac and glass' bangles from India! Lac is a resinous substance secreted by an insect called 'kerria lacca'. It is also the source of resin, wax, and dye. The lac and glass are amalgamated to produce a special kind of bangles in Delhi, which is further studded with glass beads, flower shaped mirrors and decorative wire to give it an edge over other accessories. Lac jewelry has gained considerable popularity in India today. These bangles are bright-colored and the glass work on them makes them more attractive. You can choose from innumerable versatile designs and patterns. So get ready to flash your bangles back home, you won't regret it!
---
7. Musical Instruments Delhi has been associated with the making of musical instruments since times immemorial, along with Calcutta, Lucknow, Banaras, Lahore, and Tanjore. If you are a lover of classical Indian music, then you can buy hand-made genuine Indian musical instruments, like a harmonium or a tabla. A harmonium is a free-standing keyboard instrument which produces sound by the air being blown through sets of free reeds, resulting in a sound similar to that of an accordion. You can buy a small (20 cm length and 7 cm height) harmonium. The instrument is made up of pinewood with nylon keys and brass. A harmonium could last you for a good 40-50 years.

If you are more of a beats person, you can go for a Tabla, available at a reasonable price. The term 'Tabla' is derived from the Arabic word 'Tabl', which simply means 'drum'. It is a popular Indian percussion instrument, used in Hindustani classical music and in popular and devotional music of the Indian subcontinent. The instrument is made of teakwood and high-quality copper, while the head of the instrument is made of goat skin. There are some old shops where musical instruments are made by experienced craftsmen. They also provide hand-made carry bag to protect the instrument from dust. You can also try a hand-made flute made of bamboo.
---
8. Zardozi "Zari" means gold and Zardozi is the art of embroidery with gold thread. The zardozi craftsmen of Delhi create intricate designs with golden thread embroidery and semi-precious stones. It is usually done on silk, velvet and even tissue materials. The craftsmen use either real silver thread, gold-plated thread or an imitation, which has a copper base gilded with gold or silver colour. You can buy a lehenga, or a suit, with intricate glittering zardozi work all over. If you are bored wearing the same old understated wear - it's time to deck yourself up in a north Indian bride's lehenga (wedding day wear), choli and dupatta (Indian ethnic wear) heavily embroidered with gold and silver threads. You might get shocked by the sparkle, but this could be the best buy of your life!
Where to find it:
Price- Rs 7500 onwards
Gopal Saree House
Address: 21, Tiraha Kinari Bazaar, Gali Paranthe Waali, Chandni Chowk, Delhi - 110006, India
Phone: +91 2328 5399, +91 2326 6563
Open on all days
Timings: 9am to 7.30pm
---
9. Snacks When you are in Delhi, you cannot afford to miss out on Delhi's favourite salthy snack-mathri (salty crackers). The best part of it is that you can preserve this snack for months in airtight containers. It is served with mango, chili or lemon pickle along with tea. Mathris are made by combining all purpose flour, whole wheat flour, yogurt, Bishop's weed, vegetable oil, salt (to taste) and black pepper. The ingredients are mixed well to make dough. It is then cut into small discs. They are finally put in the cooking oil to fry. You can also try 'Masala Mathri', which is a variant of Mathri with spices added to make it crispier.

Built over 200 years ago, Ghantewala Confectioners is a sweets outlet located on the main Chandni Chowk Road. Established in 1790 by Lala Sukh Lal Jain, it is now run by the seventh generation, Sushant Jain. Don't forget to pick up some mathri made according to the original recipes of Ghantewala.
Where to find it:
Price- Rs 190 for 500 gram
Ghantewala Confectioners
Address: 1862-A, Chandni Chowk, Delhi - 110006, India
Phone: +91 11 2328 0490
All days except Sunday
---
10. Unique Hand-Made Collection of Madhubani Paintings Madhubani paintings mostly depict nature and Hindu religious motifs, and the themes generally revolve around Hindu deities, such as Krishna, Ram, Shiva, Durga, Lakshmi, and Saraswati. These paintings are made with fabric colours on silk, satin and cotton fabric. Floral, animal and bird motifs, geometrical designs are used to fill up all the gaps. There is hardly any empty space in this style. The skill is handed down through generations, and hence the traditional designs and patterns are widely maintained.

Lalita Devi makes madhubani painting from natural colours, vegetable colours and works her brush in a way that will take your breath away. She operates out of her home, but delivers stunning paintings. Cotton wrapped around a bamboo stick forms the brush. The colours applied are prepared by the artists. Black colour is obtained by mixing soot with cow dung; yellow from turmeric or pollen or lime and the milk of banyan leaves; blue from indigo; red from the kusam flower juice or red sandalwood; green from the leaves of the wood apple tree; white from rice powder; orange from palasha flowers.
Where to find it:
Price- Rs 100 to 50,000
House no.1734
Address: Laxmi Bai Nagar, near INA metro station, Delhi
Phone: +91 88 0081 3351
Open on all days
Timings: 8am to 9.30pm
---
11. Khadi Khādī is an Indian hand-spun and hand-woven cloth. The raw materials may be cotton, silk, or wool, which are spun into threads on a spinning wheel called charkha. It is a versatile fabric, cool in the summer and warm in the winter. In order to produce Khadi, the raw material i.e. cotton / silk passes through a series of processes, like cleaning of raw material, forming it into yarn on charkhas, reeling of yarn, bonding of yarns before it is finally weaved on the handlooms. Khadi is now widely accepted in fashion circles. Delhi sells locally-made Khadi. There are different styles of clothing available. For gents, one can try a khadi jacket or a kurta (long Indian shirts for men), while ladies can go for ethnic wear. They are available in all sizes and colours.
Where to find it:
Price- Ladies Indian wear Rs 350 onwards
Gents Indian wear: Rs 250 onwards
Khadi Gramodyog Bhavan
Address: 24 Regal Building, Connaught Place, New Delhi - 110001, India
Phone: +91 98 6840 7896, +91 11 2341 1651, +91 2336 0902
Open on all days except Sunday
Timings: 11am to 7.15pm
Buy It on Amazon:
---
12. Astadhatu Statues (Eight-Metal Statues) According to Hindu belief, the Astadhatu is considered auspicious as compared to other metals. It not only wards off evil spirit, but also keeps you away from illness. These are the idols of Hindu gods created in Ashtadhatu, a very sacred and sattvic (pure) amalgamation of eight metals, namely - gold, silver, copper, lead, brass, Parad, Iron and Tin. The process is difficult and so the craft is rare. You can get idols of the Hindu Gods, like Lord Krishna, Lord Vishnu and Lord Shiva. There are other statues available, like 'Laughing Buddha'. If you want a customized statue, you also have the option of ordering it on the phone. You can also take a look at six-dhatu (six-metal) statues which are cheaper.
---
13. Cake Rusk Rusk is an essential item in every Indian household. The Indian homemakers take the snacks out at tea time. You can either have it with your tea or try the Indian way, which is to dip the rusk in your tea and savour the taste. They are crisp and crunchy, twice-baked biscuits and are sweet in taste. You could even pack it along on long journeys. Available in different flavours, there are different varieties of rusk to be found, like semolina rusks, milk rusks and wholewheat rusks. This won't just pacify your hunger pangs, but will leave you asking for more. Make sure to distribute it among your family and friends. They won't forget you for the memorable gift.
Where to find it:
Price: Rs 50 onwards
Aggarwal sweets and namkeen
Address: 6408/7, Arya Samaj Road, Dev Nagar, Karol Bagh, Delhi - 110005, India
Phone: +91 11 2573 5236, +91 98 1101 7159
All days
Timings: 10am to 9.30pm
---
14. Hand-Made Boxes and Photo Frame Local craftsmen make beautiful hand-made photo frames and customized boxes. There is a whole range of hand-made gift boxes to choose from. These are available in various shapes and sizes, like star-, potli- and triangle-shaped boxes. You can use these to keep your precious jewellery or to gift it to your friends and family. The boxes are bright in organic colours and bear hand-made painting. You can also buy paper art for decorative purposes, cards and envelopes for sending gifts to your loved ones or hand-made paper sheet for writing letters. Handmade photo-frames are available in various designs, like natural flower work, photo-frame in metallic-paper, double photo-frame in handmade paper decorated with elegant Plaster of Paris hand-painted design. If you like Indian embroidery, you can try photo-frames with silk thread work. The standard size of the photo-frames is: outer size 8"X6"; photograph size 6"X4".
---
15. Toys Toy making is a popular craft in Delhi. Make sure to bag a bundle of toys to make your little ones, back home, happy. Not just this, you can also proudly display it in your living area to show off your journey to India. Made from clay or terracotta decorative and hand-painted in beautiful colours, these are available in different shapes and sizes. The raw material for this craft is ordinary clay, derived from the beds of water bodies like river, lakes and ponds. The clay is cleaned, mixed and then shaped either by hand, wheel or molded into desired objects. The items are dried, fired and glazed, as per requirements. The clay or terracotta products are graded according to their color, strength and water absorption capacity.
Where to find it:
Price- Rs 20 to Rs 500
Dilli Haat
Address: INA, near INA metro station on Yellow Line, Delhi - 110023, India
Phone: +91 2611 9055
All days open
Timings: 10.30 am to 10:00 pm.
---
16. Kites The making of paper kites caters to the famous kite-flying mania of Delhiites, which reaches its height during the monsoons, especially on August 15 August, India's Independence Day, and during the spring festival of Basant Panchami. Kites come in all sizes, ranging from 36 inches to their miniature versions. However, the two standard sizes are 12 and 15 inches. These are made up of thin colourful papers. These are light to pack and easy to carry. Kites made of plastic sheets are also available. You also get a wood and bamboo roll on which the string is wound, which is used to fly the kite.
Where to find it:
Price- Rs 20 onwards
National Handicrafts and Handlooms Museum
Address: Pragati Maidan, Bhairon Road, New Delhi - 110001, India
Tel: +91 11 2337 1887, +91 11 2337 1641
All days open but Gallery closed on Monday
Timings: 10 am to 5pm
Other Interesting Souvenirs from North India
---
If traveling to North India is not on your immediate agenda, or you simply can't afford an extra space in your luggage, fortunately, these days, you can find a wide selection of authentic and truly interesting Northern Indian souvenirs online. Presented here are some of the Northern Indian products sought by foreign visitors, now available online for your convenience.
1. Jaipuri Razai
- Among other things Rajasthan is renowned for is the making of light-weight Jaipuri Razai ("quilt from Jaipur"). Designed to endure extreme temperatures, these quilts can keep you warm in winter and cool in summer. Handmade of pure cotton and characterized by incredible feather-weight lightness, softness and warmth, Jaipuri Razai are equally good as body clothing and bed cover. A perfect gift for weddings, housewarmings, engagements, anniversaries, Thanksgiving, and Christmas.
2. Blue Pottery of Jaipur - Another traditional craft of Jaipur that makes it popular with guests is the Blue Pottery. Reportedly of Turko-Persian origin, this pottery is distinguished by its eye-catching cobalt blue dye, and is made out of a similar frit material as Egyptian faience. No clay is used. Instead, to make the "dough" they mix quartz stone powder, powdered glass, Multani Mitti (Fuller's Earth), borax, gum and water. Vibrant, lively colors of this hand-painted pottery, inspired by the Mogul gardens of Kashmir, hillside villages of Goa, and geometric, swirling patterns of Rajasthan, make it really exquisite and a crown of your dining table.
3. Uttar Pradesh Brassware - Handmade brass items (oil lamps, wall decorations, jugs/pitchers, etc.) of Moradabad in North India, produced by artisans using traditional sand casting methods, are ineffable pieces of work applauded for their intricate design and incomparable craftsmanship. Made to last, these goods are highly durable, elegant and a wonderful addition to the home decor. Can make a wonderful gift to your near and dear ones.
4. Madhubani Paintings - Madhubani painting is one of India's numerous art forms, characterized by complex geometrical patterns representing ritual content for certain occasions, such as festivals, religious rituals, etc. The used colors are often bright and instead of contemporary brushes the artists use different objects, such as twigs, matchsticks or even fingers to create their works. Quite unique and a great addition to one's home or office interior.
5. Attar, "The Scent of India" - Attar/Ittar is an ancient art of perfume making practiced in the city of Kannauj in Uttar Pradesh. This city is famed for making perfumes of natural ingredients, distinct for their flavor and also for being alcohol-free. Some of these fragrances, such as Rose and Kewra, are widely used in pharmaceutical industry and traditional confectionery as well.
6. Ayurvedic Products - Ayurveda is one of the key assets of India for there are multiple ways through which this ancient therapy has helped human kind in recovering from different ailments. The popularization of benefits of ayurvedic products and medicines have prompted their international fame; these products are known to cure and prevent health issues in the course of time with no side effects. They also play a key role in beauty industry. If you seek an ideal gift from India for your family and friends, ayurvedic products are a perfect solution.
7. Mojari - Handcrafted Footwear from Punjab - Also called Jutti or Nagra, Mojari is the stylish footwear from North India, particularly worn in the state of Punjab. If you have already bought traditional Indian attire, match it with the colorful trendy Mojari to complete the ethnic look. Handmade of high-quality leather, Mojari is one of the coolest things from India that comes with a great look and comfort.
Get GPSmyCity App for IOS or Android
You can read offline thousands of travel articles like this one in the "GPSmyCity: Walks in 1K+ Cities" app on
iTunes App Store
or
Google Play Store
. The apps also offer city offline maps and GPS navigation to guide you to the places featured in the articles.
Walking Tours in Delhi, India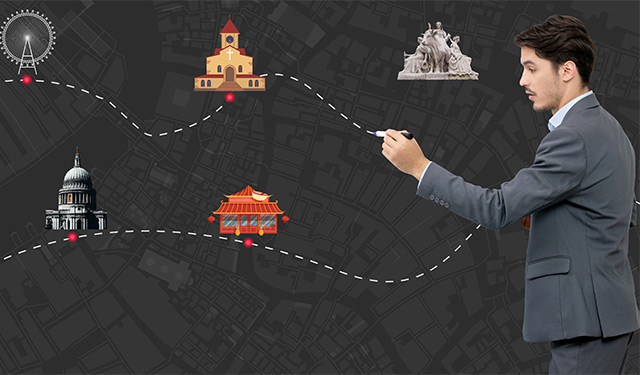 Creating your own self-guided walk in Delhi is easy and fun. Choose the city attractions that you want to see and a walk route map will be created just for you. You can even set your hotel as the start point of the walk.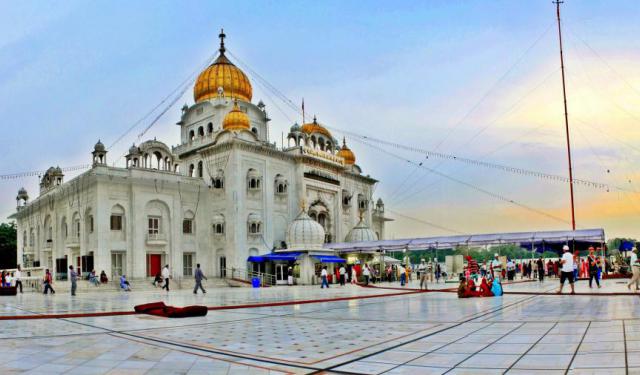 Delhi is the second largest city in India and one of the world's oldest metropolitan areas, continuously inhabited since the 6th century BC. Due to its location, for years this place has been coveted by numerous empires and dynasties, starting from the ancient ruler of the Kuru Empire to the British Raj, who have fought for and seized control of it.
Although Delhi has more than two...
view more
Tour Duration:
2 Hour(s)
Travel Distance:
5.2 Km or 3.2 Miles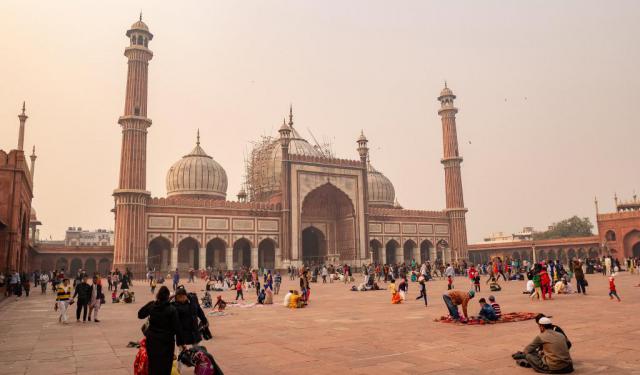 Old Delhi, as a walled city, was founded in 1639 under the Mughal emperor Shah Jahan, who decided to move his domain's capital here from Agra. The construction of the city was completed in 1648, from which point on Delhi had remained the capital of the Mughal Empire until its fall in 1857.
Once filled with mansions and havelis (traditional townhouses) of the nobles and members of the royal...
view more
Tour Duration:
2 Hour(s)
Travel Distance:
3.3 Km or 2.1 Miles