16 Uniquely Kenyan Things to Buy in Nairobi
Be it a quality read or a quality watch that you fancy most, either way you probably heard of the "Out of Africa" book (by Danish author Isak Dinesen) or the same title Oscar-winning movie, starring Meryl Streep & Robert Redford, shot in Kenya. And if you have, chances are that one day you might also want to prove yourself indeed having set foot on the African soil. In Nairobi, you will find tons of artifacts to attest to that and just as many more to impress your dear ones back home. For your convenience, we've drawn up a list of colorful items that will make you relive the African experience time and time again.
---
1. Maasai Beads
Necklaces and bracelets made of beads have a special significance to the Maasai people, who use different colors and combinations to symbolize power, beauty and love. For example, red beads symbolize power and blood (a color fit for warriors), while green symbolizes fertility and prosperity (good for women). Beads are available in a number of forms. Necklaces are the most common, but you can also find bracelets, earrings, chockers and other products. Some of the bigger necklaces make great pieces of art that you can display at home. The best way to buy Maasai beads is directly from the Maasai people. If you're joining a safari, you'll likely visit the Maasai Mara Game Reserve and the resident Maasai tribe. In the city, the best place to get beads is the Kazuri Bead Factory, located in Mbagathi Ridge, on the land that once belonged to Karen Blixen (author of the "Out of Africa" book). The factory sells not only handmade ceramic beads, but also pottery and beaded products. They also have an outlet in the Westgate Shopping Centre in Nairobi.
Where to find it:
Kazuri Beads, Mbagathi Ridge, Nairobi, Kenya, +254 20 2328905
Offline reading and travel directions:
You can carry this article in your mobile device to read offline and create a self-guided walk to visit the venues featured herein with the GPSmyCity App (available on
iTunes App Store
or
Google Play Store
).
---
2. Kitengela Glass
Kitengela is an artists' community located in Nairobi. It is the only community-based place for local disabled artisans, who produce a number of glass objects on-site, including decorative animals, jugs, vases and even stained glass windows. All the glass they use is recycled. Located opposite the Nairobi National Park, Kitengela is a destination in itself. You can literally spend hours exploring the grounds, stumbling along the mosaic pathways and into magical sculptures, such as giant oxes, glass murals and Hobbit-like structures. Depending on how much you want to spend, you can go for small items (e.g. glass-beaded curtains, tableware items or suncatchers) or larger items (furniture covered with glass mosaics or stained-glass windows). Prices are more than reasonable. For example, a pair of hand-blown Kitengela glass earrings will set you back only U$12. The main place to shop for Kitengela Glass is the studio's main location within the community, which is open seven days a week.
Where to find it:
Kitengela Hot Glass Ltd. 4, Nairobi, Kenya
Offline reading and travel directions:
You can carry this article in your mobile device to read offline and create a self-guided walk to visit the venues featured herein with the GPSmyCity App (available on
iTunes App Store
or
Google Play Store
).
---
3. Beaded Bowls
Besides being used for necklaces and other jewelry, the Maasai also use beads to make bowls, plates and other products used to carry everyday items. Some places will make items to order, so you can get anything - from coasters to wine baskets. Because each piece is hand-beaded to form the item, it can take weeks to finish a large bowl or decorative piece. The Goodie's African Interiors & Gifts shop is a great place to start your shopping. If you have time, you can custom-order your beaded bowl, specifying the size, color and type of beads (ceramic, glass, wood) you want. Otherwise, pick one of the bowls already on sale at the store. They go from U$5 for a small ashtray-size bowl to over a hundred for a fruit bowl. Bowls are unlined so they're not meant to hold liquids or anything wet or sticky that could damage the bead work.
Where to find it:
Goodie's African Interiors & Gifts , Viking House, Waiyaki Way, Westlands
Offline reading and travel directions:
You can carry this article in your mobile device to read offline and create a self-guided walk to visit the venues featured herein with the GPSmyCity App (available on
iTunes App Store
or
Google Play Store
).
---
4. Hand-Carved Wooden Sculptures
Traditional sculptures, such as the ones depicting "The Great Five" (lion, buffalo, elephant, rhino, and leopard) are a good choice, no matter the size. Giraffes are an especially-popular choice, but they tend to be very large (some up to 10 feet high), so you would have to plan the shipping well in advance. There are three types of woods traditionally used for wood carvings: mango trees, Neem trees and ebony. Ebony is rarer and more expensive, so if you're on a budget, look for the other two options, which are lighter in both color and weight. Makonke carvings are considered the best and are made using mpingo or African blackwood. They are usually in the form of animals or busts (human figures). Because of their price and quality, Makonke carvings are only sold at fine galleries and shops in the city. Start your search at the Collectors Den Store, located inside the shopping arcade at the Hilton Nairobi. The store specializes in hand-carved ebony and soapstone items, all made by indigenous people of Kenya. Otherwise, head to Jigsaw Designs, on the ground floor of the Sarit Centre, if you're looking for large items. Jigsaw stocks carved items that go from small figurines, that would look good on a mantle, to four-poster beds and major objects of art made completely out of wood. Prices start at U$50 and up for the smaller items, so expect to spend some money there.
Where to find it:
Hilton Nairobi Hotel, Mama Ngina St, Nairobi, Kenya
---
5. Blankets
Traditional Maasai blankets (also known as "Shukkas") are made of either cotton or wool and are perfect for cozying up on the couch back home or as bed covers or even picnic blankets. To the Maasai people, these blankets constitute a very important piece of clothing, worn draped across the shoulders. Buying a blanket at a local Maasai market is probably the best idea, as you'll get something more authentic and probably not mass produced. A traditional Maasai blanket is red blended with one other color, usually blue or black. Biashara Street is the place to go for shukkas at bargain prices. A basic blanket should not cost more than U$4, but prices can go up if you're buying a blanket with a special design, batik applications or an extra-large size. The Karina Emporium Limited on the first floor of the Yaya Centre also has blankets, but these are machine-produced, which means better quality and softer materials, but also less authenticity.
Where to find it:
Biashara Street
The Karina Emporium Limited on the first floor of the Yaya Centre
---
6. Kikois and Khangas
These sarong-like wraps (in male and female form, respectively) are made of colorful woven cotton and can be worn on the beach or used as a throw or curtain at home. Usually made of striped cloth, khangas are traditionally used as skirts or by women to carry babies as they work. Khangas often have a Swahili proverb printed on them. They make great gifts and won't break the bank. The best place to shop for kikois and tangas is either Biashara Street or Ngara Road. Rows upon rows of textile shops line up the streets, offering a sea of vibrant colors and patterns that can't be beaten. Shopping at stores located here will ensure that you're getting handwoven material with an authentic flavor, rather than the machine-produced stuff you would find at tourist shops. Atul's General Merchants is an old-fashioned textile supplier on Biashara that sells cut-to-size kikois and khangas, as well as textiles by the yard. On Ngara Road, try Mansi's Collections, which sells not only kikois and khangas, but also anything you would want to decorate your clothing with, including ribbons, beads, wooden buttons and other items. When walking down either street, keep your eyes open for the sidewalk vendors - they sometimes carry the most unusual and beautiful textiles.
Where to find it:
Biashara Street
Atul's General Merchants Atul's General Merchants
Tailors - General
Bldg 26, Gr Flr, Biashara St
Mansi's Collections,Ngara Road
---
7. Baskets
Hand-woven baskets (known as kiondos) are a specialty of the Akamba women, who use them for anything, from carrying groceries to storing wood. The baskets come in all sizes and because they're made of sisal (a traditional local fiber) and cotton threads, they're durable but also soft and easy to pack for the flight home. Kiondos are made completely by hand, and it can take up to 3 weeks to finish one. Before they begin weaving, women boil and dye the sisal threads to make the multicolored kiondos. Once finished, some weavers add leather trimmings and handles or, sometimes, weave beads and shells into the kiondo. Kiondos are available almost everywhere in Nairobi, from outdoor markets to antique stores to hotels souvenir shops. The Adelphi leather store in the Yaya Centre sells high-quality kiondos that can be customized with beads, drawstrings and other add-ons upon request. Their kiondos have a fabric lining (not part of traditional kiondos), which makes them suitable as handbags and to carry small objects without the risk of losing any of them. Cheap kiondos can be found for as little as a couple of dollars at markets, but the ones at Adelphi sell for U$15 and up.
Where to find it:
Adelphi leather store in the Yaya Centre
Argwings Kodhek Rd, Nairobi City
---
8. Spears
A Maasai spear has a major role in the social and religious standing of a warrior. They are handcrafted using wood and adorned with colorful charms, leather thongs and carved wood accessories. The traditional Maasai spear is made up of three sections: the grip, the spear head and the metal butt of the head. All three pieces are held together by hardened wax. If you're checking yours into your luggage, you can get a spear that comes without the added wax, so it can dissembled into 2-3 pieces for easy carrying. Depending on the material, quality and whether the spear was made for a warrior (which makes it more expensive) or directly for sale to tourists, spears can go for anywhere between U$30 and over U$500. Traditional spears made by the Maasai people are sold at a number of markets, including the large Maasai Market on Slip Road. Smaller Maasai markets are mobile, which means they can be found in different areas of the city, depending on the day you go shopping. On Saturdays and Sundays, there's a market on the High Court parking in City Square downtown. On Sundays there's also a market at the car park outside the Yaya Shopping Centre. The upper car park at the Village Market in Gigiri hosts a market on Fridays.  
Where to find it:
Maasai Market on Slip Road
High Court Parking at the City Square Down Town
Yaya Shopping Centre
Village Market in Gigiri
---
9. Baobab Handbags
Handbags made from the bark of the Baobab tree are hand-woven and come with a leather strap. The baobab tree is very much respected in Africa because its trunk can hold thousands of liters of water, which can be lifesaving during long journeys or times of drought. The bark of the baobab tree can be removed without damaging the tree (the tree can regenerate it) and is used to make everything, from rope to clothing to musical instruments' strings. Baobab handbags are a specialty in Kenya. They are similar to tote bags, with an open top, and usually measure at least eight inches in height, as they're traditionally used to carry things and to go shopping. The double handle and any trim or decorations added are usually made of leather. Baobab handbags can be found at most outdoor markets, or you can head to the Inside the Baobab shop on the second floor of the Yaya Shopping Centre. Here, you'll find a multitude of products made of baobab, including handbags, book covers, cushions, briefcases and more. Prices are higher here than you would find at a Maasai market, so expect to pay U$30 or more for a small bag.
Where to find it:
Yaya Shopping Centre
---
10. Safari Chairs
What better way to remember Kenya than by bringing a piece of a safari trip back home? Safari chairs are made of light wood and have a canvas seat and back. Because they're made to be used outdoors, the chairs are usually built with coated wood and water-resistant canvas. Many safari chairs, but not all, can be taken apart into small pieces that will fit into the luggage. Expensive ones make a great conversation piece, while the cheaper, foldable ones are ideal to take camping. Marco Polo, a high-end shop located in the Karen Shopping Centre on Langata Road (Karen neighborhood), is a great place to shop for safari chairs. Ashwood chairs with a natural oxhide cover sell for around U$100 and can be dissembled to be packed into your luggage easily. There are also chairs with solid brass fittings that fold but cannot be taken apart. These would have to be shipped separately.
Where to find it:
Marco Polo, a high-end shop located in the Karen Shopping Centre on Langata Road (Karen neighborhood)
---
11. Coffee
Kenya is East Africa's largest producer of coffee, so it makes sense for you to take some home when visiting Nairobi. Kenyan coffee is Arabica-type, with strong acidity and fruity and wine-like undertones. Depending on where it's grown and the type, you can expect anything from a spice-rich to a berry flavor to a sweet grape crispness. Get whole bean coffee rather than ground coffee, as the bean will maintain its full flavor for longer. This is especially important in the hot, humid weather of Nairobi. For the best coffee in town, join a tour that takes you out to a coffee farm, where you can buy coffee directly from the farmers. The Kenya Nyeri Ngunguru and the Kenya Nyeri Hill Estate Peaberry produce two of the most popular coffee brands in the country and both run farms that can be visited. Ngunguru is set on a beautiful location, with inspiring views of Mt. Kenya on the background and tons of wildlife – including deer and hawks —roaming the area. The coffee from Peaberry is particularly good because it has a touch of cinnamon spice, which makes it unique. A pound of either coffee will set you back about U$9.
---
12. Soapstone Carvings
Carvings made from soapstone, or what the locals call Kisii stone, are available in a number of forms and designs, from vases and decorative art to dishes and other practical items you can use around the house. Kisii carvings are available all over the city, at markets, curio shops and souvenir shops. If you want something special, you can get yours from Undugu, a fair trade group that helps support street children and their families. Ungudu doesn't have a set shop, but instead supports carvers who produce the figurines and art pieces in their own homes and yards and then sell them through the organization. If you contact Ungudu, they will direct you to the village of Tabaka, where workshops line up the streets and you can choose a piece before it's even finished. If you don't want to get out of the city, the Zanzibar Curio Shop on the ground floor of the York House in Moi Avenue sells all types of soapstone carvings, as well as copperware and semi-precious stones. Prices vary widely depending on what you want to take home. A small basic figure of 10 inches or less can sell for as little as U$25, while more intricate pieces can sell for hundreds of dollars. Keep in mind that soapstone is heavy, so you might end up paying for extra weight in your luggage.
Where to find it:
Zanzibar Curio Shop on the ground floor of the York House in Moi Avenue
---
13. Tribal Masks
A warrior mask is usually large in size and painted in bright colors. Instead, you can go for something smaller, such as an animal-inspired mask. Masks make a great addition to any décor, especially as wall hangings or table pieces. The most common material (and the cheapest) is wood, but if you're willing to spend more, you can get metal, light stone or clay pottery masks. Keep in mind that the more intricate the design gets, the more you'll have to pay for it. Painted masks are cheaper than those with added decoration, which can be anything from seeds to horns to sea shells. Masks made especially to be sold as souvenirs can be found for less than U$15, but the masks used in actual ceremonies are more costly. To tell the difference, look at the inside of the mask and search for signs of wear and discoloration, which indicates the mask was worn before. Try the City Market on Muindi Mbingu Street for the best prices and variety. The Zanzibar Curio Shop on Tom Mboya Street offers more variety, though prices might be a bit higher and you won't be able to bargain.
Where to find it:
City Market on Muindi Mbingu Street
The Zanzibar Curio Shop on Tom Mboya Street
---
14. Kenyan Music
The Kenyan music scene is vibrant, rich and varied. Look for Kikuyu or Kamba pop, produced by the tribes of the same name, or buy traditional Maasai music, which doesn't use any instruments and instead consists of namba, an exchange of tones, melodies and contrasting voices. If you don't know where to start, get a CD of Joseph Kamaru, considered the biggest star in the history of Kikuyu. Les Kilimambogo Brothers Band and the Lower Mbooni Boys Band are good examples of Kamba pop. Another good option is to get a compilation CD of folk music, featuring namba and other vocal forms of traditional song. Pirated CDs are everywhere in Nairobi, but you risk getting poor quality (on top of breaking the law). Instead, head to The Box Office, a shop in Barclays Plaza, on Loita Street. The store sells both CDs and DVDs, so you can choose to just listen or watch live concerts.
---
15. Sweet Beer
Traditional Kenyan beer is made from sugar cane and honey. The home-made, non-commercial version is known as muratina, which has a very unique, fruity flavor. Because muratina is technically the name of the homemade version, you have two options. Either read labels of locally-bottled beers and see if any of them contain muratina fruit as an ingredient or buy a sealed bottle of the homemade version from a local market. You can also try Tusker beer (locally known as "keroro"), which also has a light fruity and sweet taste, sort of like drinking sweetened malt with no bitterness and mild carbonation. The Serengeti Lager is technically original to Tanzania, but it's another very popular choice in Kenya. This is a much sharper beer with a higher alcoholic content that still has fruity undertones. Try The River Café at the Rosslyn Garden Centre, where you can taste (and buy) a number of locally-brewed alcoholic drinks.
Where to find it:
The River Café at the the Rosslyn Garden Centre
Limuru Road, 1/2 km after Village Market | Inside Karura Forest, Nairobi 00100, Kenya
---
16. Batiks
Batik is a hand-painted cloth that has been covered with a mixture of paraffin and beeswax. Originally, batiks were only used to decorate clothing, but can now be found on wall hangings, paintings and even throws. Traditional Kenyan batiks often have tribal designs and pictures of animals or the countryside. Batiks are made using different techniques, including stencils, etching and brush painting. The more intricate the design, the more you can expect to pay for it. A single yard of batik should set you back no more than U$20, though, especially if you're willing to bargain for it. One of the best places to get batiks in Nairobi is the Batik Heritage store on Muindi Mbingu Street. They sell batik by the yard, as well as a large number of batik products, including skirts, kikoys and wall hangings. The Zanzibar Curio Shop is also a great place to shop for batik, as well as safari wear, baskets and clothing.
Where to find it:
Batik Heritage store on Muindi Mbingu
The Zanzibar Curio Shop on Tom Mboya Street
Get GPSmyCity App for IOS or Android
You can read offline thousands of travel articles like this one in the "GPSmyCity: Walks and Articles with Offline Maps" app on
iTunes App Store
or
Google Play
. The apps also offer GPS navigation to guide you to the places featured in the articles.
Nairobi Walking Tours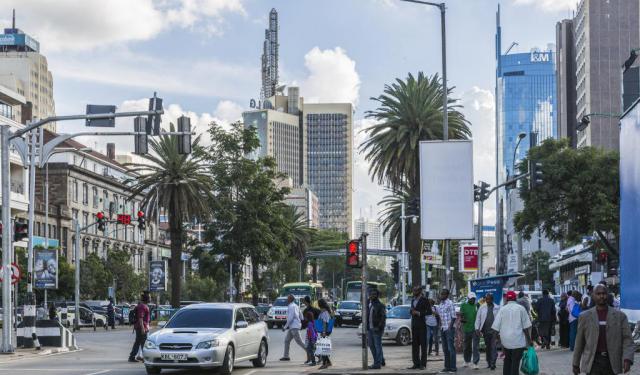 Nairobi is Kenya's capital, the largest of the country and the fastest developing city on the continent. The life of Nairobi is mostly concentrated in the Central Business District. Here are situated the highest skyscrapers of the country with hundreds of offices. This is a busy place; nonetheless you can find many spots where you can unwind and relax. Here are some very beautiful parks. Check out the most popular attractions in Nairobi's Center.

Tour Duration: 3 hour(s)
Travel Distance: 5.4 km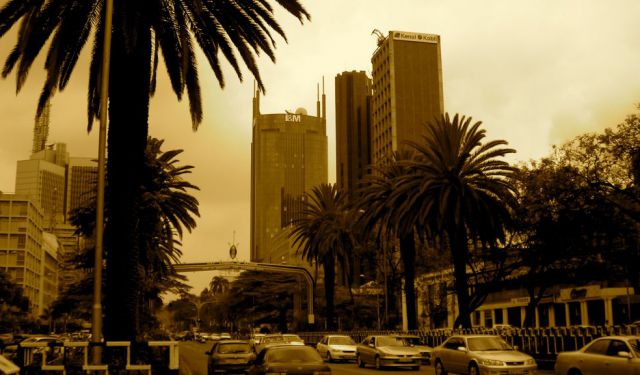 Nairobi is quite a new and developing city and it has a lot of places of interest. One thing that is worth seeing is the Nairobi skyline with its skyscrapers. These high glass glittering buildings are really fascinating. Most of them are located in the Central Business District of the city which is where you can find the highest buildings in eastern and central Africa. Check out the highest buildings of Kenya in the next tour.

Tour Duration: 1 hour(s)
Travel Distance: 2.5 km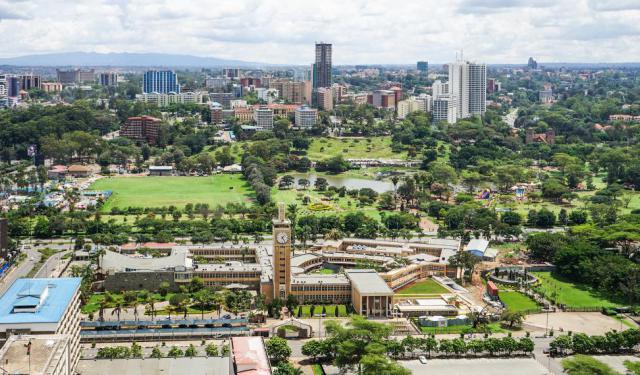 Other than safari and wildlife – staple attractions of today's Kenya – Nairobi, the country's capital, is also home to a number of historic sites and other places of interest. The Nairobi National Museum, largest in the city, showcases Kenya's rich through historic, natural, cultural, and artistic heritage. Another prominent museum is the Nairobi Railway Museum. For a more detailed encounter with some of Nairobi's top attractions and landmarks, follow this orientation walk.

Tour Duration: 3 hour(s)
Travel Distance: 5.1 km