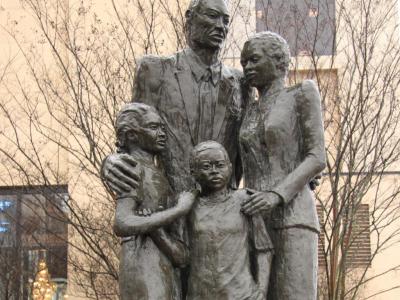 African American Monument, Savannah
The African-American Families Monument in River Street pays homage to Savannah's African-American heritage and highlights the "invisible story of the Trans Atlantic slave trade".

The bronze and granite statue depicts a family of four embracing after emancipation, facing towards the Savannah River and the west coast of Africa, the starting point of the slaves' journey. Inscribed with a moving quote, the controversial monument was designed by Savannah College of Art and Design Professor, Dorothy Radford Spradley, and recognizes the contributions made by African Americans, as well as symbolizes their new beginning in the Americas.

In January 2001, the city council approved the project, but deferred action on a decision regarding a quote by Maya Angelou that would appear on the base of the monument. The proposed quote would have read, in part, "We lay back to belly in the holds of the slave ships in each others' excrement and urine together, sometimes died together, and our lifeless bodies thrown overboard together." At the time, this quote was considered a bit too strong in part due to the monument's proposed location along the Savannah River promenade, one of the biggest tourist attractions in the city. A year later, the amended version of the inscription reading, "Today, we are standing up together, with faith and even some joy" was unanimously agreed on by the city council.

The monument was dedicated in 2002. In July 2019, a plaque was added to its base describing the efforts of Abigail Jordan, an African American activist, to erect the monument.
Sight description based on Wikipedia.
African American Monument on Map
Walking Tours in Savannah, Georgia