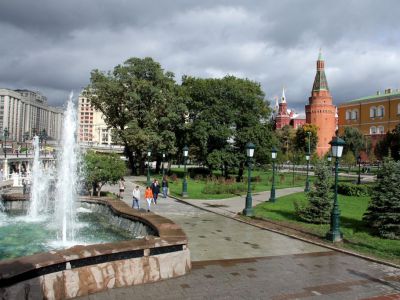 Alexander Garden, Moscow
Alexander Gardens (Russian: Alexandrovsky Sad) is one of the first public parks in Moscow. It was laid out between 1819 and 1823 by order from Tsar Alexander I, and is situated on the site of the riverbed of the Neglinnaya River channeled underground. The garden is subdivided in three smaller ones (Upper, Middle, and Lower), and stretches along all the entire length of the western Kremlin wall.

Immediately next to the main entrance lies the Tomb of the Unknown Soldier. Dedicated to all the Soviet soldiers fallen in World War II, it has an eternal flame burning in the center. The Tomb was created in 1967; it contains the body of an unidentified soldier who fell defending Moscow at the 41st kilometer of Leningradskoe Shosse (Highway), which is the nearest point to the capital that the Nazis could get. Known as Post Number One, the Tomb is guarded by the honor sentinels, moved here to from in front of Lenin's Mausoleum in the 1990s.

Further into the middle section of the Upper Garden is an artificial ruined grotto with four marble columns. The grotto was built in 1841 as a reminder of the war of 1812 with real fragments of the houses destroyed during the French occupation of Moscow. The cast iron gate and grille, enclosing this part of the garden, were designed to commemorate the Russian military victory over Napoleon.

In front of the grotto you will find an obelisk erected in 1914 to celebrate the 300th anniversary of the Romanov dynasty. Four years later, after the dynasty was gone, the Bolsheviks removed the imperial eagle and re-carved the monument with a list of 19 socialist and communist philosophers and political leaders, personally approved by Lenin. Originally in the Lower Garden, it was moved to its present location in 1966.

From the Lower Garden, members of the public can access the Kremlin through the Borovitskaya Tower. The northern part of the garden is adjacent to the large underground shopping complex at Manege Square.
Sight description based on Wikipedia.
Walking Tours in Moscow, Russia
Useful Travel Guides for Planning Your Trip
--- 16 Best Russian Things to Buy as Souvenirs in Moscow
While it's easier to list the riches Russia does not have, if there are such, the variety of authentic Russian stuff available in Moscow is truly mind-blowing. Some items are obscenely expensive, others - affordable, but both can make a memorable gift from the largest country in the world. To...