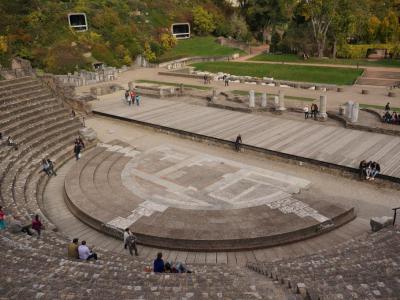 Ancient Theatre of Fourvière (Amphitheatre Gallo-Romain), Lyon
(must see)
There are a lot of interesting vestiges of ancient Lyon to behold and one of the best of them, undoubtedly, is the Amphitheatre Gallo-Romain, at the foot of the Croix-Rousse Hill.

This theatre, first built under the reign of Roman Emperor Tiberius, around 19AD, was also known as the Amphitheatre des Trois Gaules. Its main purpose was to serve as the Sanctuary of the Three Gauls – an administrative institution set to federalize and romanize Gallia as an Imperial province.

Other than that, the theatre was used, as were all such places in Roman times, as a place for entertainment. Theatrical plays were put on here along with gladiator fights and other public events. The theatre was also used for public executions.

The original amphitheatre wasn't very large; it had room for just about 1,800 spectators. The basement was made up of three elliptical walls joined by cross-walls and a channel around the oval central space.

Around 230 AD the theatre was enlarged, added with two new galleries, which brought the seating space up to 20,000. At the end of the Gallo-Roman era the theatre was abandoned and fell into ruin, with parts of it being built on.

Archaeological digs between 1956 and 1976 uncovered the remains of what you can see today in the Jardin des Plantes.
Ancient Theatre of Fourvière (Amphitheatre Gallo-Romain) on Map
Walking Tours in Lyon, France
Useful Travel Guides for Planning Your Trip
--- Gastronomic Delights: 10 Places to Buy Great Food in Lyon, France
The city of Lyon is famous for its contribution to the culinary arts. Here food lovers will find hundreds of specialty shops throughout the city offering some of the world's finest and award-winning products fit to delight any epicurean palate. Let your taste buds lead you on this voyage into...