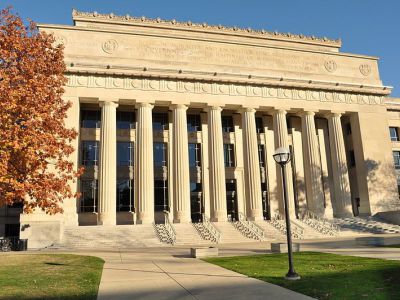 Angell Hall, Ann Arbor
Angell Hall is an academic building at the University of Michigan. It was previously connected to the University Hall building, which was replaced by Mason Hall and Haven Hall. Angell Hall is named in honor of James Burrill Angell, who was the University's president from 1871 to 1909.

Construction began in 1920, and finished in 1924 at a cost of about $1 million. An addition opened in 1952 adding auditoriums, a classroom wing, and an office wing. The addition replaced old Haven Hall, which was destroyed by fire in 1950, the 1841 Mason Hall, and two other buildings.

The building's exterior, particularly the Doric columns, was intended to match that of campus other buildings at the time, including Hill Auditorium, Alumni Memorial Hall, and the Clements Library.

On the front facade, the carving reads, "Religion, morality, and knowledge, being necessary to good government and the happiness of mankind, schools and the means of education shall forever be encouraged." The text is taken from the Ordinance of 1787.
Walking Tours in Ann Arbor, Michigan