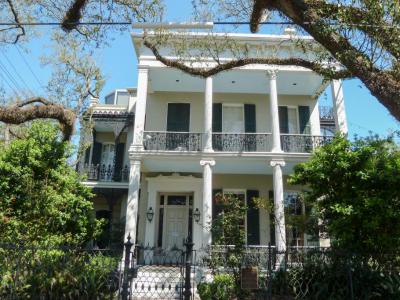 Anne Rice House, New Orleans
Here's a rare chance to take a peek into the stately – and slightly spooky – New Orleans home once owned by Anne Rice, undisputed grand dame of gothic fiction. Best known for her Vampire Chronicles saga – famous long before those Twilight vamps had even sprouted fangs – Rice's taste for the historic and the haunted is much influenced by her growing up in New Orleans, which the author calls a "strange, decadent city full of antebellum houses," according to a recent post on Realtor.com. Still enchanted with her native city, Rice moved back to New Orleans' Garden District in the late 1980s, buying up several homes, including this glamorous Victorian Gothic.

The six-bedroom, 7,609-square-foot home is said to have been haunted since long before Rice moved in, with spirits dating back to its completion in the 1800s. From the exterior, that doesn't seem too far fetched; inside, there are pastel walls, beautiful stained glass from the 1880s, elaborate moldings and mantels, and no shortage of crystal chandeliers. Rice moved out in 2010 and the place has been on and off the market ever since.
Walking Tours in New Orleans, Louisiana