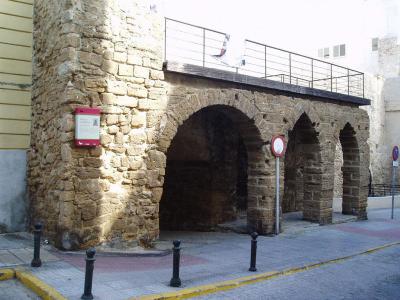 Arco de los Blanco (Arch of the Whites), Cadiz
The Arch of the Whites (Arco de los Blanco) is an ancient Roman gate in the Pópulo neighborhood of Cádiz. It was situated near the Village Castle (Castillo de la Villa), and different constructions were added to the original opening, altering its appearance over time. However, the wide vault that forms the passage has been preserved.

The arch was named after the Bianco or Blanco family, who built a chapel over the main arch in the 17th century. Unfortunately, the chapel no longer exists. The exterior portico of the arch was the main entrance or Land Gate of the medieval town and had pointed arches. It was likely built at the same time as the rest of the fortification and citadel and provided access to the royal butcher shops. Beneath the site of the butcher shops, some of the annexed rooms of the Roman theater of Gades have been discovered.

The Arch of the Whites was originally called Earth Gate (Puerta de Tierra) because it was located in front of the schooner or isthmus. Later it was renamed Santa María, after the suburb it led to. The gate was flanked by two towers of unequal size. The southern tower was one of the cubes of the castle that stood next to the arch.

Today, the Arch of the Whites is a historical monument that attracts many visitors to Cadiz. Although the façade of the arch was dismantled in the 16th century to widen the street, its remaining parts provide a glimpse into the city's rich Roman and medieval history.
Arco de los Blanco (Arch of the Whites) on Map
Walking Tours in Cadiz, Spain