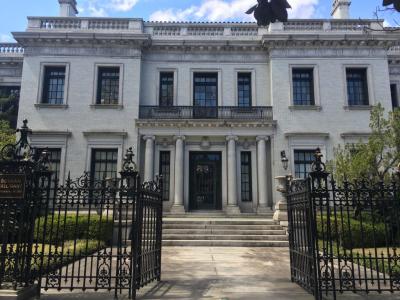 Armstrong House, Savannah
Designed by Savannah, Georgia-based architect Henrik Wallin, this handsome mansion – a nationally significant example of Italian Renaissance Revival style – was built between 1917 and 1919 for the home of Savannah magnate George Ferguson Armstrong (1868–1924), and subsequently was home to Armstrong Junior College.

The house made several appearances in popular culture, having been featured as the school of the daughter of the protagonist in "Cape Fear", the 1962 psychological thriller starring Robert Mitchum, Gregory Peck, Martin Balsam, and Polly Bergen. The house also appeared as the real-life law office of attorney Sonny Seiler in the film "Midnight in the Garden of Good and Evil", a 1997 American crime drama film based on a novel by John Berendt and directed by Clint Eastwood.

Stop by to take your selfie with this historic house before or after strolling to the Forsyth Park nearby!
Walking Tours in Savannah, Georgia