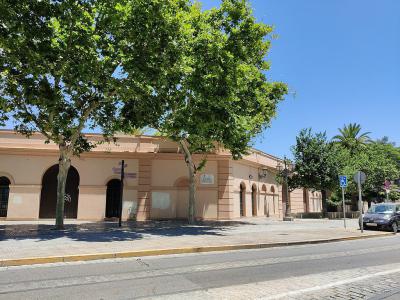 Baluarte de la Candelaria (Candelaria Bastion), Cadiz
The Candelaria Bastion (Baluarte de la Candelaria) is a fascinating military fortification located at the northern strategic point of Cadiz. The fortress was built in 1672 under the initiative of the governor, Diego Caballero de Illescas, taking advantage of a natural elevation of land to protect the entrance to the port of Cadiz.

The bastion has an irregular triangular plan with the south side open towards the city and the northeast and northwest façades angled defensively towards the bay. Its pointed shape was designed to cope with the force of the sea, and its seaward-facing wall, which had previously served as a seawall, housed cannons that commanded the channels approaching the port.

Over time, the Candelaria Bastion served different functions, such as barracks, engineer's residence, and dovecote for the pigeon service of the Korps Engineers. In the late 19th century, the fortification underwent restoration and was given a cultural destination. It has a hall used for exhibitions, as well as a large courtyard with palm trees where concerts, plays, and carnivals are held. The edifice has served as a headquarters for the Corps of military engineers, and currently, it is designated for use as a permanent exposition space.
Baluarte de la Candelaria (Candelaria Bastion) on Map
Walking Tours in Cadiz, Spain