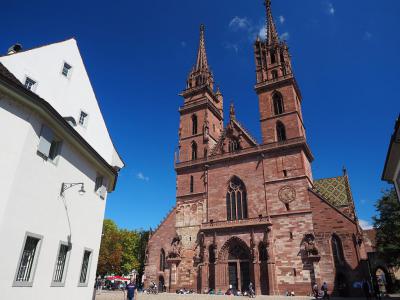 Basel Münster (Basel Minster), Basel
(must see)
Today's Basel Minster is one of Basel's most iconic landmarks. It features distinctive red sandstone walls and colorful roof tiles. Built and renovated between 1019 and 1500, it is one of the oldest structures in Basel.

The cathedral hill was settled during the Celtic period, and excavations revealed an ancient wall, gate, and street under the current cathedral.

Bishop Haito built Basel's first cathedral in the ninth century. A larger building was consecrated in 1019. Henry II, the Holy Roman Emperor, was present at the consecration, and the cathedral is also known as the Heinrich Munster. The church was rebuilt during the 13th century and was heavily damaged in the 1356 Basel earthquake.

After the earthquake, the cathedral was rebuilt in Gothic-style and re-consecrated in 1363. A monastery was also built at that time.

The Georgsturm tower was built in 1429, and the Martinsturm tower was built in 1500. The towers are named after saints of the knights, George and Martin. A 1372 artwork displayed in the Georgsturm depicts Saint George fighting a small dragon. The saints are also represented in sculptures next to the main entrance. The towers each have 242 stairs. Visitors that do the climb are rewarded with panoramic views of the city.

In 1440, Felix V was elected as a counterpope or antipope in the Basel Minster.

During the Reformation in the 1500s, the bishop was expelled, and the monastery closed. Many valuable cathedral artworks were destroyed during the Reformation. For example, a statue of the Virgin Mary used to stand between the doors of the main porch. The statue was destroyed during the Reformation, and the column is now empty. However, the scenes depicting prophets and kings remain intact.

Statues depicting Emperor Henry II and his wife Empress Kunigunde are on the main porch.

Why You Should Visit

The Basel Minster is an architecturally stunning cathedral with a long and storied history. The stained glass windows, arched ceiling, and organ are beautiful.

Tips

Don't miss climbing one of the towers and enjoying dramatic views over Basel.
Sight description based on Wikipedia.
Basel Münster (Basel Minster) on Map
Walking Tours in Basel, Switzerland