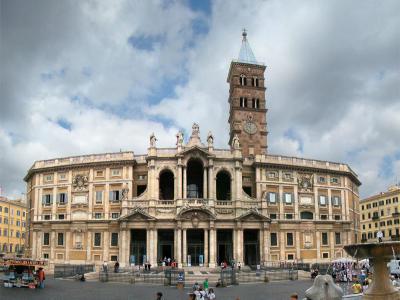 Basilica di Santa Maria Maggiore (Basilica of Saint Mary Major), Rome
(must see)
As the largest among the 26 churches in Rome dedicated to the Virgin Mary, the Basilica of Saint Mary Major holds a significant place in history. Originally constructed by Pope Liberius in the 4th century, the church has undergone renovations and enhancements by successive popes while still retaining its early medieval structure. The colonnaded nave, an integral part of the original 5th-century building, offers a glimpse into its ancient origins. The medieval era contributed the captivating Cosmatesque marble floor and the delightful Romanesque bell tower adorned with intricate blue ceramic roundels. During the Renaissance, a new coffered ceiling was introduced, while the Baroque period left its imprint with twin domes and grand facades at the front and rear.

However, the true splendor of Saint Mary Major lies in its mosaics, which are among the oldest in Rome. The biblical scenes adorning the aisles date back to the 5th century, captivating visitors with their artistic depiction. The mosaics on the triumphal arch are particularly breathtaking, showcasing the skill and craftsmanship of the time. Among the medieval highlights is a magnificent 13th-century mosaic featuring an enthroned Christ in the loggia, adding to the artistic treasures within the basilica.

In 2001, Pope John Paul II inaugurated the Basilica Museum, dedicated to the history of the church and the spread of Catholicism throughout the world. Here you will see ecclesiastical paintings, ritual vestments, scores from the choir and manuscripts detailing church events.

Why You Should Visit:
Conveniently located and boasting a majestic presence, this grandiose church offers a captivating experience both inside and out, featuring by far the most successful blend of different architectural styles.

Tips:
When visiting, be sure to take advantage of the small tours available to explore the church's hidden treasures. Additionally, don't miss the opportunity to visit the balcony loggia, which offers a unique perspective and allows you to admire more of the church's stunning architecture. As evening sets in, find a serene spot by the fountain and marvel at the illuminated beauty of the building.
Basilica di Santa Maria Maggiore (Basilica of Saint Mary Major) on Map
Walking Tours in Rome, Italy
Useful Travel Guides for Planning Your Trip
---