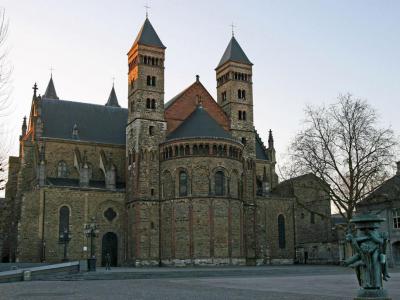 Basilica of Saint Servatius, Maastricht
(must see)
The Romanesque Basilica of Saint Servatius is built on Saint Servatius's gravesite. It is likely that the current structure is the fourth iteration of churches on this site.

Saint Servatius was an Armenian missionary and Tongeren's bishop. He reportedly died in Maastricht in 384. The first church was a small memorial chapel, which was replaced by a larger church. Next, a pilgrim church was built. Finally, the current church was built between the 11th and 12th centuries. Emperor Henry III and a dozen bishops attended the church's dedication in 1039.

The impressive Berg Portal is located on the south side of the church and gives visitors access to the church via descending steps. The portal was probably built during the 12th and 13th centuries and is the first Gothic construction in Maastricht. An intricate tile labyrinth covers the floor.

The portal features vibrantly decorated walls and 72 statues of kings, prophets, apostles, saints, and angels. In addition, reliefs depict Mary's life. In 1566, many statues had their heads removed because of a cultural movement against icons. The damage was poorly repaired in 1596. A Baroque facade was added in the 18th century and removed in the 19th century.

The side chapels were added in the 14th and 15th centuries and feature Gothic architecture. A Gothic spire was added in 1556, and Baroque helmet spires were added in 1770.

French revolutionaries used the church as a horse stable in 1797. As a result, many of the church furnishings were sold or damaged. Since 1866, the church has undergone several restorations.

Throughout the Middle Ages, the Pilgrimage of the Relics took place every seven years. The pilgrimage was revived in the 19th century and again takes place every seven years.
Basilica of Saint Servatius on Map
Walking Tours in Maastricht, Netherlands