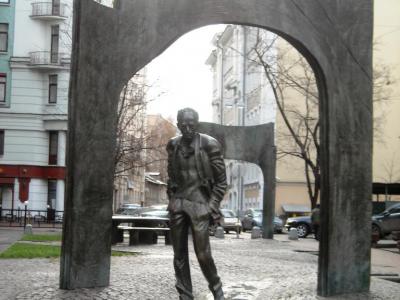 Bulat Okudzhava Monument, Moscow
One of several monuments on Old Arbat that is easy to miss is the one dedicated to Bulat Shálvovich Okudzhava, a popular singer-songwriter who lived in the area and immortalized it in several of his songs. A Russian of Georgian-Armenian descent, Okudzhava was a master in his own field and one of the founders of the Soviet genre of "author song", somewhat similar to the French chansonnier style, very different from the mainstream back then. He had an exceptionally melodic voice, and, without any formal training in music, employed only a few chords on his guitar to accompany his sung poems full of metaphors and symbolism.

The bard passed away in 1997. A memorial to him was unveiled in 2002 on what would have been his 78th birthday. The well executed statue, created by the well-known sculptor Georgy Frangulyan, coincidentally also of Georgian-Armenian ancestry, depicts the not-so-young man, hands in pockets, with a rolled-up paper under one arm, strolling in front of two large arches – the typical Arbat gateway, from which the poet seemingly has just got out, with a bronze shadow on pavement right behind him, as if the evening sun was already low...

Quite moderate as such, the monument reflects the artist's personality really well. It is also lovely in the sense that it features several other elements, apart from the figure itself, such as the bronze bench. There is always plenty to look at on pedestrian Arbat, and the monument to Bulat Okudzhava is a spot worthy of a quick stop for a photo shoot, particularly if you're a fan.
Bulat Okudzhava Monument on Map
Walking Tours in Moscow, Russia
Useful Travel Guides for Planning Your Trip
--- 16 Best Russian Things to Buy as Souvenirs in Moscow
While it's easier to list the riches Russia does not have, if there are such, the variety of authentic Russian stuff available in Moscow is truly mind-blowing. Some items are obscenely expensive, others - affordable, but both can make a memorable gift from the largest country in the world. To...