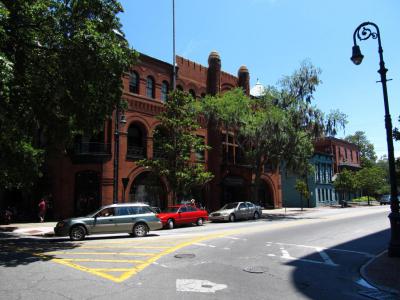 Bull Street, Savannah
(must see)
Bull Street is the main artery of Savannah's downtown area, stretching all the way from the Starland neighborhood through Historic District. A section between Forsyth Park and the City Hall is the showroom of the city's history and beauty. Walking here you will pass via five of Savannah's iconic squares, such as Johnson Square, Wright Square, Chippewa Square, Madison Square, and Monterey Square, located precisely two blocks away from each other down the road.

This thoroughfare offers some of Savannah's best shopping experiences, not to mention lots of other delights! The long stretch between Forsyth and the river is a home to some of the best restaurants in town.

In particular, make sure to explore the BULL STREET TACO (open Monday through Saturday, from 11am–10pm), which is a hip artsy spot with lots of contemporary artwork and vintage photos on the walls. It has a few tables inside, a bar, and a nice patio outside, where many people dine in the warmer months. Most of the drinks at the bar are tequila-based; however, their main event, undoubtedly, is the street tacos!

As you stroll down the road under the moss and oak trees past the numerous boutiques, eateries, and historic homes, keep an eye on memorial plaques here and there. The genuine feeling of presence in the Old South will come over you instantly.
Walking Tours in Savannah, Georgia