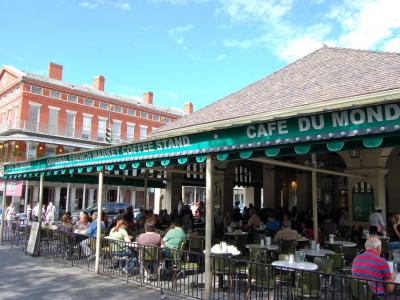 Cafe du Monde, New Orleans
(must see)
Open around the clock, the open-air Café du Monde (French for "Café of the World" or "the People's Café") is a New Orleans institution. Established in 1862, it is renowned for its café au lait and beignets and is a perfect place for relaxing at a table under the arcade and listening to the street musicians entertain.

The French brought coffee with them as they began to settle along the Gulf Coast and the Mississippi River around 1700. During the American Civil War, the New Orleans Creoles developed chicory-blended coffee as there was a coffee shortage, which has continued to be served at Café du Monde and other New Orleans restaurants due to the added chocolate-like flavor of café au lait.

The Acadians from Nova Scotia brought other French customs, such as the beignet, to Louisiana in the 18th century. Unlike most doughnuts, beignets are squared pieces of dough with no hole in the middle, sometimes served with fruit, jam, maple syrup, or even savory items. At Café du Monde, the fried delights are served warm with a thick coating of powdered sugar and are sold in orders of three.

Just keep in mind that the place is CASH ONLY and the menu includes ONLY dark-roasted coffee with chicory served black or au lait, beignets, white and chocolate milk, and fresh-squeezed orange juice.

Tip:
If too crowded, consider going around, back to the take-out window, and enjoying your treats on the Mississippi riverfront.
Walking Tours in New Orleans, Louisiana