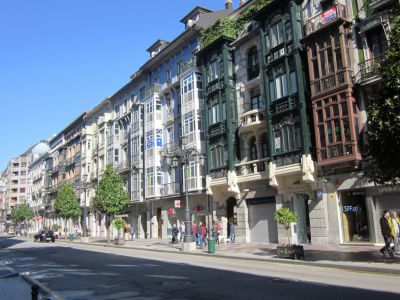 Calle Uria (Uría Street), Oviedo
Anywhere else, Uria Street might be called "High Street." It is home to many fashion retailers and perhaps the main stretch of Oviedo. It lies along beautiful San Francisco Park, housing restaurants, bars, cafes, patisseries, and the El Corte Inglés department store. The sidewalks are wide and ideal for strolling.

Among the landmarks to admire on the street is the Casa Blanca, the White House. It looms over the middle section of the street, a high, white building with Art Deco designs. Four joined buildings of the Casas del Cuitu (Cuitu's Houses) complex share a neo-Baroque facade. The old Aramo Cinema, built in 1941, is an example of functionalism.

Other sights in the area not to be missed are San Juan Church, Asturias Casino, the Campoamor Theater, and the statue of Woody Allen, hands in pockets, strolling along. Oviedo was a location for his movie "Vicky, Cristina, Barcelona."

From the southeastern part of the street, there are good views of neighboring San Francisco Park. It is the city's foremost green space. It was developed from a medieval monastery and laid out as a park in the 19th century. The street is named for Oviedo's 19th-century writer and politician, Jose Francisco Uria y Riego.
Calle Uria (Uría Street) on Map
Walking Tours in Oviedo, Spain