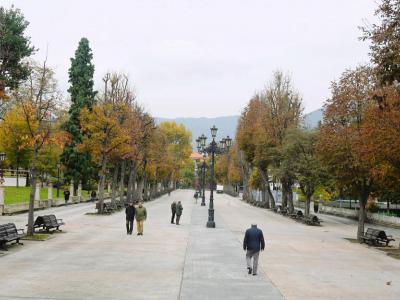 Campo de San Francisco (San Francisco Park), Oviedo
(must see)
San Francisco Park (Campo de San Francisco) is a large public garden of 90,000 square meters in the center of Oviedo. The park is planted with orchards salvaged from the convent of San Francisco after the convent was demolished. The park abounds in winding paths and broad avenues, illuminated by lampposts as the sun sets. The Los Alamos and Jose Cuesta walks, Italia and Germany avenues thread their way through the trees.

A 13th-century deed, kept in the Cathedral of Oviedo, declares that knight Don Gonzalo Bernardo de Quirós donated a fountain and meadow to the Franciscan Friars. In 1534 the city and the Cathedral converted all the land into a single space for public use. Walks and tree-lined ways were developed. Italy Avenue was the first promenade to open.

The 19th century saw the final transformation of the San Francisco lands into a rambling, English-style park. A landscape was created with fountains like Las Ranas ( the Frogs) and La Fuentona (the Fountain). In 1899 the bandstand was built.

Urban sculptures are scattered throughout the park. The Romanesque portal of the old church of San Isidro and other monuments are part of the open-air museum of Oviedo. Busts of famous people are easily found. The park is a refuge. Peacocks, peahens, and aquatic birds stroll or waddle around the lakes and grounds.

In the last few years, adaptations have been carried out to improve the space. All the paved streets have been pedestrianized. Best of all, there will always be ice cream, peacocks, and a safe place to walk.
Campo de San Francisco (San Francisco Park) on Map
Walking Tours in Oviedo, Spain