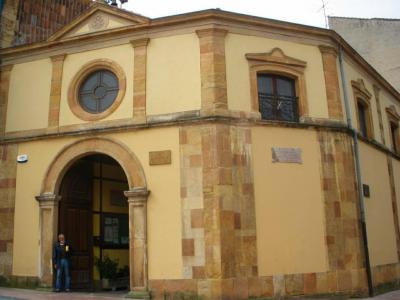 Capilla de la Balesquida (Balesquida Chapel), Oviedo
Capilla de la Balesquida, sitting on the side of Plaza de Alfonso II el Casto, in front of the Cathedral, is a small chapel dedicated to the Virgen de la Esperanza (Virgin of Hope). The chapel was founded in 1232 as the seat of the Balesquida brotherhood of tailors, named so for their benefactor, the local noblewoman, Doña Velasquita (or Balesquida) Giráldez. The affiliation with tailors is evident from the depiction of a pair of scissors on the corner balcony.

The chapel's current Baroque-style appearance, preceded by several reconstructions, emerged in 1725. Later, in 1876, there was another major reconstruction, as stated by the plaque outside the chapel. The most recent remodeling – which fundamentally affected the chapel's interior layout – took place in 1952.

Dominating the interior are three altars, dating from the 17th century. The main one has in its central niche the sculpture of the Virgen de la Esperanza. Topping the altarpiece is the relief representing the Holy Spirit. There's also another sculpture of the Virgin, from the 18th century, flanked by two angels. The Virgin's lavish attire has been donated, over the years, by numerous devotees including, primarily, the tailors' brotherhood themselves.

The altarpiece on the gospel side is dedicated to San Judas Tadeo (attesting to which is the 18th-century wooden statue of the saint). The third altarpiece is dedicated to San Bernardo de Claraval.

Two paintings within the chapel depict the moments of the life of San Bernardo, namely: his appointment as abbot of Claraval, and The Virgin Mary, San Benito and San Lorenzo interceding for his health. In the second section of the nave you can see a relief, made in polychrome wood, featuring the appearance of crucified Jesus to San Bernardo.

On a ledge in the presbytery, in a prominent place, stands another wooden sculpture, an early Gothic carving from the 13th century, featuring the Virgin with Child. The chapel also contains the Gold Medal awarded by the City Council, in 1952.
Sight description based on Wikipedia.
Capilla de la Balesquida (Balesquida Chapel) on Map
Walking Tours in Oviedo, Spain