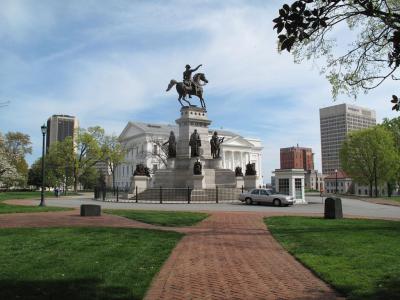 Capitol Square, Richmond
The area in the center of Richmond that surrounds the Virginia Capitol Building is known as Capitol Square. The Square is roughly bounded between Broad and Bank Streets and Ninth and Governors Streets. Besides being the center of the Commonwealth's governance, the square contains several monuments to prominent Virginians. The Square encompasses roughly 12 acres and is bounded by one of the oldest wrought iron fences in the country, installed in 1818.

The most notable monument is the George Washington Equestrian statue, built in 1858 by Jean-Antoine Houdon. It's a life-size marble statue of Washington atop a horse; you can't miss it. Patrick Henry, Thomas Jefferson, "Stonewall" Jackson, and many other notable Virginians are commemorated in the plaza. The bell tower was built in 1825 for the Virginia Public Gaurd. It is used each day to call the General Assembly into session. There is also a Virginia Civil Rights Memorial, built in 2008, and Voices from the Garden-The Virginia Women's Monument, which was begun in 2018. Adjacent to the Capitol Building is the Executive Mansion, where the governor resides. There are also several departmental headquarters.

When visiting Capitol Square, start your tour at the Capitol Visitors Center off of Bank Street. When you include all of the public buildings and outdoor spaces, Capitol Square contains more than 130 pieces of artwork, from paintings to sculptures. The Square is one of the oldest planned parks in the country, older than Central Park in New York. It was laid out and designed by Maximilian Godefroy in 1816 with geometric precision reminiscent of 18th-century French courtyards. It was further developed in 1850 in the picturesque English style; the result is a modern-day green space that is a pleasure to stroll around and is a central part of the Commonwealth's political and social heart.
Walking Tours in Richmond, Virginia