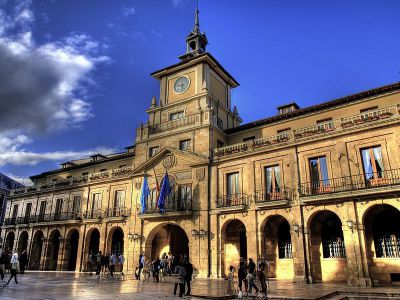 Casa Consistorial de Oviedo (Oviedo Town Hall ), Oviedo
The town administration of Oviedo, formed shortly after the creation of Oviedo municipality (by the royal decree of Fuero de Oviedo) in the mid 12th century, originally met inside the Church of San Tirso. As the importance of the municipality grew, the authorities sought to have a designated building that would serve their needs. Pursuant to this objective, in 1622, they commissioned architect Juan de Naveda to design a town hall.

The current building was constructed on the remains of the ancient city walls and the Puerta de Cimadevilla (Cimadevilla Gate). The latter now acts as a passage underneath the Town Hall's central clock tower. In 1671, the construction was finished. In 1780, the Town Hall underwent its first extensive renovation, carried out by Francisco Pruneda.

During the Spanish Civil War, in the 1930s, the building suffered serious damage amid a widespread destruction of the entire neighborhoods of Uviéu, during which time the municipal government moved out into the Palace of the Duque del Parque. After the war, in 1940, the Town Hall was rebuilt by architect Gabriel de la Torriente, who, among other elements, added the clock tower.

Presently, the Town Hall represents a beautiful gallery comprising 13 arches, decorated with moldings and pilasters, and is included in the list of Oviedo's architectural heritage.
Casa Consistorial de Oviedo (Oviedo Town Hall ) on Map
Walking Tours in Oviedo, Spain