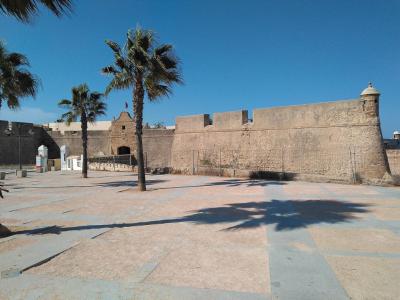 Castillo de Santa Catalina (Castle of Santa Catalina), Cadiz
Anglo-Dutch troops and sailors under the command of the Duke of Essex and English Admiral Howard sacked Cadiz in 1596. The city and the Spanish fleet were devastated so badly, Spain was forced to declare bankruptcy the following year.

It was said Spain's disaster happened because "...all were heads of command and none were feet that would follow, and that is how they lost, for not having either hands or feet." King Philip was so set on revenge he dispatched a second and a third armada against England. He lost both, and Cadiz was still devastated. But there was hope.

Hope was a fort. The first bricks of the Castle of Santa Catalina were laid in 1598. However, the castle was not finished until 1621, under the rule of Philip III. The initial architect was Cristobal de Rojas, who had assisted in the building of the royal palace, El Escorial. Rojas died in 1614. All was completed by Ignacio de Sala.

The fort was a template for forts built in Cuba, Mexico, and Puerto Rico. Located at the end of La Caleta beach, the castle has pavilions, barracks, and cisterns. Sentry boxes are at each corner of the seaward walls. There is a waterless moat and a drawbridge. There are magnificent views from the battlements.

The fortress has served as a military prison, but now it is a cultural space with exhibition rooms. It is also a venue for concerts, art, and the Alcances Documentary Film Festival.
Castillo de Santa Catalina (Castle of Santa Catalina) on Map
Walking Tours in Cadiz, Spain