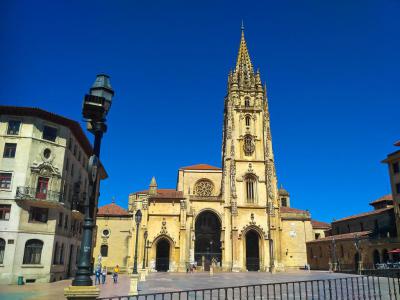 Cathedral of San Salvador, Oviedo
(must see)
Alfonso II, king of Asturias, discovered the supposed tomb of Saint James the Greater in the town of Compostela in the eighth century. During his reign, Alfonso II built the Holy Chamber, Alfonso's chapel, and the treasury for the Cathedral of San Salvador in Oviedo, Asturias region of northern Spain.

The Cathedral of San Salvador, also known as the Metropolitan Cathedral Basilica of the Holy Saviour, is a Roman Catholic Church and a basilica in the center of Oviedo. Today, it features many architectural styles, from Pre-Romanesque to Baroque, including Romanesque, Gothic, and Renaissance elements.

The Holy Chamber is a two-story pre-Romanesque structure built on a rectangular plan. It serves as the treasury of the new cathedral of San Salvador. Royal burials are on the ground floor. The upper floor holds a collection of relics and royal treasures.

The aisle of the upper floor of the Chamber has twelve Romanesque columns depicting the apostles. The columns support the barrel vault roof. The Romanesque Old Tower belfry is raised by the addition of an arched gallery with a ribbed vault. There is evidence of a Romanesque cloister, replaced by the Gothic cloister of today.

In the late Middle Ages, the Oviedo Cathedral underwent so many changes that it became a new cathedral complex. Pre-Romanesque basilica and its environs were replaced. Gothic elements prevailed in the chapter room, cloister, master chapel, aisles, facade, and tower.

The church has three naves and side chapels, a transept, and a Renaissance ambulatory. The cathedral roof is supported by tall columns decorated with plant motifs. The altarpiece tells the story of Christ in Flemish-Gothic style pictures. The chapel of King Casto holds a pantheon for deceased Asturian royalty.

There is an old saying in Asturia: "Whoever goes to Santiago and not to the Savior, visits the servant and leaves the master." The master, of course, is the Cathedral of San Salvador.
Cathedral of San Salvador on Map
Walking Tours in Oviedo, Spain