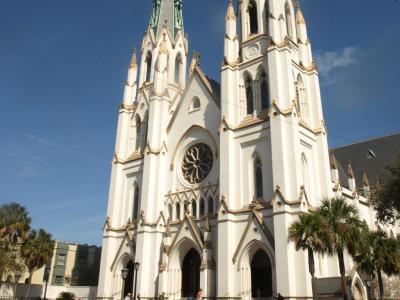 Cathedral of St. John the Baptist, Savannah
(must see)
Back in the early days of America, the Roman Catholics were banned from settling in the South out of fear of their potential loyalty to the Spanish crown and possible secession of the southern colonies from the English-controlled North. As a result, Savannah had no Catholic church until 1799, when the French migrants from Haiti, fleeing the French Revolution, established it for the first time. The Cathedral of St. John the Baptist was begun in 1873. It was commissioned in 1896 upon the completion of the majestic twin spires and addition of stucco and whitewash coating to the brick structure.

The cathedral boasts a number of notable artistic and architectural features, including the Great Rose Window, a Gothic quatrefoil with the image of St. Cecilia in the center. The windows radiating from the center also contain figures – of players of musical instruments. The Original Window of the Blessed Virgin Mary is one of the few to have survived the great fire that ravaged the city in 1898. The Transept Windows feature the assumption of Virgin Mary into heaven, surrounded by angels and saints. In addition to this, the church houses several murals dating from 1912, depicting saints and other religious figures with the encoded symbols indicating their lives and deaths.

Locals lovingly dub the cathedral "America's Sistine Chapel", referring to its amazing stained glass work, ceiling paintings, and altar. Lovely to look at, this fine piece of French Gothic architecture is like a free 'trip' to Europe, particularly impressive to those who have not traveled extensively outside of the U.S.

Whilst inside, spare some time for a guided tour of the building – you'll be glad that you did. Also, be sure to drop a few bills in the donation box at the exit, which is quite unique, and don't forget to turn the handle. The place is open Monday through Saturday from 9–11:45am and from 12:45–5pm.
Cathedral of St. John the Baptist on Map
Walking Tours in Savannah, Georgia