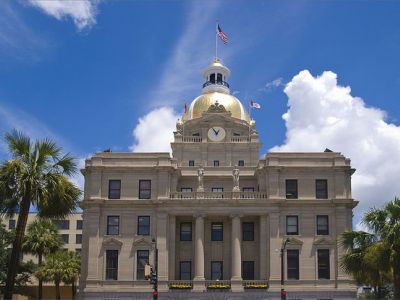 City Hall, Savannah
Dominating Bay Street, the Savannah City Hall is a real eye-catcher, capped with a pretty gold-leaf-covered copper dome. The building was designed by acclaimed architect, Hyman Witcover, notable for several other creations in the Savannah area.

The construction lasted from 1904 to 1905, and was located on the site previously occupied by the City Exchange, which had been built in 1799 and was demolished in 1904. The project took place during the administration of Savannah Mayor Herman Myers, who described it as "a monument to the progressive spirit that marks the Savannah of today" that will "typify the 20th century Savannah, [the one] of indomitable energy and punishing progressiveness."

The City Hall officially opened in 1906. It represents an example of Renaissance Revival architecture with an exterior clad in gray limestone and granite. On the inside, it has two elevators and the historic steps going down the old River Street which are interesting in their own right. Initial plans called for four statues of chariots to be placed on the tops of the building's four corners, but financial limitations prevented this.

Directly adjacent is a small canopy sheltering two cannons, which together compose the city's oldest monument. These are the Chatham Artillery Guns, presented to the local militia group of the same name by President George Washington during his one and only visit to town in 1791. Today, locals use the phrase "Chatham Artillery" differently, to refer to a particularly potent local punch recipe that mixes several hard liquors.

In 2014, the Georgia Historical Society erected at the City Hall a Georgia historical marker.
Walking Tours in Savannah, Georgia