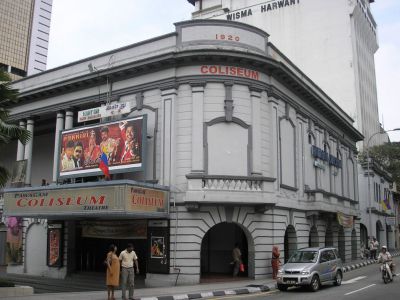 Coliseum Theater, Kuala Lumpur
Watching a movie in a regular cinema hall is something one can do anywhere, but what if you have the opportunity to watch your favorite movie in the first theatre that was built in the country? Such an experience would be truly exciting, and it awaits you at the Coliseum Theatre in Kuala Lumpur. Built in 1921, the Theatre, like many of the city's other heritage sites, was the pioneer in the country. The Art Deco-style building is capable of seating 900 people and also features a balcony.

The Coliseum Theatre may not look like a coliseum from the outside, but definitely has the amphitheater vibe on the insides. Launched by a rich and hardworking Chinese immigrant, Chua Cheng Bok, who earned his riches by working in the tin mines of Kuala Lumpur, the Coliseum is still a proud property of the family. Till today, the Theatre is run by the same family.

Although the Coliseum Theatre has been labeled as a heritage site, you can watch your favorite movies at the Coliseum. Functioning ever since the early 20th century, the Theatre has been showing movies nonstop for almost a century, except when the Japanese invaded Malaysia during the Second World War.

All in all a must visit site on your heritage tour of the city.

The famed Coliseum Café and Hotel—a favorite haunt of English playwright and novelist William Somerset Maugham during his stay in British Malaya—are located behind the theatre, just down the road.
Walking Tours in Kuala Lumpur, Malaysia
Useful Travel Guides for Planning Your Trip
--- 16 Malaysian Things to Buy as Souvenirs in Kuala Lumpur
"Malaysia, Truly Asia" is what you hear en route to Malaysia. Indeed, there's practically every bit of Asia to be found here, as the country's population is made up primarily of three groups: Malay, Chinese and Indians. Quite expectedly, the diversity of Malaysian handcrafts is...