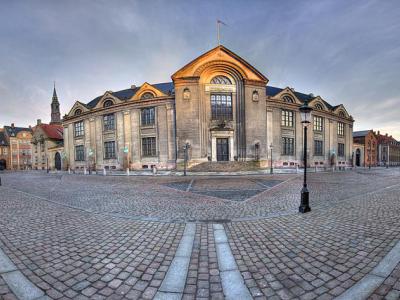 Copenhagen University, Copenhagen
The Latin Quarter is home to Copenhagen's University since the Middle Ages, when Latin used to be the primary language of education. Established in 1479 by a Papal bull, in close location to the Church of Our Lady, it had a predominantly theological focus up until the 18th century when, through various reforms, science and the humanities replaced theology as the main subjects studied and taught. Still, the first female student was enrolled here no sooner than 1877.

A number of prominent scientific theories and schools of thought are namesakes of the institution. The famous Copenhagen Interpretation of quantum mechanics was conceived at the Niels Bohr Institute, which is part of the university. Outside the main building, a busts honor Bohr himself, who won the the 1922 Physics Prize for his model of the structure of the atom and, some twenty years later, helped develop the atomic bomb.

If the doors are open, enter a colorful lobby, starring Athena and Apollo. The frescoes celebrate high thinking, with themes such as wisdom's triumph over barbarism. Notice how harmoniously the architecture, sculpture, and painting all combine.
Copenhagen University on Map
Walking Tours in Copenhagen, Denmark
Useful Travel Guides for Planning Your Trip
--- Copenhagen Shopping: 16 Distinctively Denmark Things to Buy
Denmark is renowned for simple, industrial and functional design, as well as bohemian and everyday fashion-wear for the individual urban living. The capital Copenhagen, home to Copenhagen Fashion Week twice a year and biannual INDEX: Design to Improve Life - the world's biggest design awards, is...