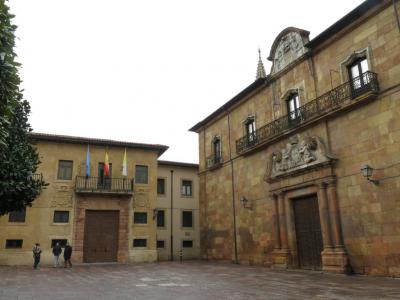 Corrada del Obispo (Bishop's Run Square), Oviedo
Corrada del Obispo is a square in the historic district of Oviedo. It is surrounded by the Episcopal Palace, Cloister of the Cathedral of Oviedo and Casa del Deán Payarinos. These buildings make part of the city architectural heritage and turn the Corrada del Obispo square into valuable cultural object. The square received its current appearance in 1900, when the Deán Payarinos house was founded.

Episcopal Palace : The current palace dates from the 1940s after the previous one was burned and ruined during the Asturias Revolution of 1934 . The reconstruction maintained the appearance and physiognomy of the previous one and onlythe portal adorned with four coats of arms of different prelates from Oviedo was preserved from the original 16th century palace .

Cloister of the Cathedral of Oviedo : At the beginning of the 18th century , the cathedral chapter decided to add a floor to the gothic cloister of the cathedral. The architect in charge of the work was Francisco de la Riva Ladrón de Guevara who executed it between 1730 and 1733 . On the façade over the Corrada del Obispo, a Baroque -style palatial façade was built with a large door, known as Puerta de la Limosna , flanked by double Tuscan columns. The upper floor of the cloister houses the Museum of the Church of Oviedobeing the end of the cultural tour of the museum, which includes a visit to the Holy Chamber of the Cathedral of Oviedo , precisely in the Puerta de la Limosna.

Casa del Deán Payarinos : It was ordered to be built in 1900 by the dean of the cathedral Benigno Rodríguez Pajares, popularly known as Deán Payarinos, and designed by the architect Juan Miguel de la Guardia in a modernist style . The façade of the original building remains, having completely rebuilt the interior. It has two bodies with projecting balconies and an upper balustrade, the corners being rounded and occupied by two viewpoints. It houses the Oviedo Professional Conservatory of Music and the Eduardo Martínez Torner Superior Conservatory of Music .
Sight description based on Wikipedia.
Corrada del Obispo (Bishop's Run Square) on Map
Walking Tours in Oviedo, Spain