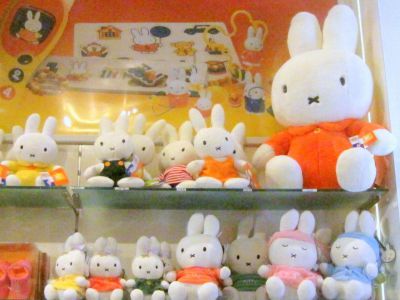 De Winkel van Nijntje (bunny-themed store), Amsterdam
Nijntje, a beloved cartoon rabbit, originates from a series of children's books created by the renowned Dutch artist, Dick Bruna, during the 1950s. Dick Bruna's literary portfolio boasts an impressive collection of over 100 books, now available in translations spanning 40 distinct languages. The endearing moniker "Nijntje" emerged from a child's charming mispronunciation of the Dutch term "konijntje", meaning bunny rabbit. However, in translated versions, Nijntje is commonly recognized as "Miffy". It's worth noting that some individuals speculate that Hello Kitty may have drawn inspiration from Nijntje.

A delightful Dutch keepsake for a child is a "Nijntje knuffel" or stuffed animal, coincidentally carrying the dual meaning of "hug" in Dutch. What a heartwarming coincidence! Pairing a knuffel with one of Nijntje's adventure-themed books makes for a splendid gift idea. These compact-format books typically comprise 16 pages and are recommended for children aged 4 to 8. Most feature short stories chronicling Nijntje's escapades, though a few consist solely of captivating illustrations without accompanying text.

While you can readily discover knuffels featuring Nijntje in a variety of charming attire at various stores throughout Amsterdam, De Winkel van Nijntje stands as an exclusive haven dedicated entirely to the beloved baby bunny. A wide array of delightful merchandise is available for both children (Miffy's core demographic) and adults. You'll find an extensive selection of plushie to pick from!
De Winkel van Nijntje (bunny-themed store) on Map
Walking Tours in Amsterdam, Netherlands
Useful Travel Guides for Planning Your Trip
---