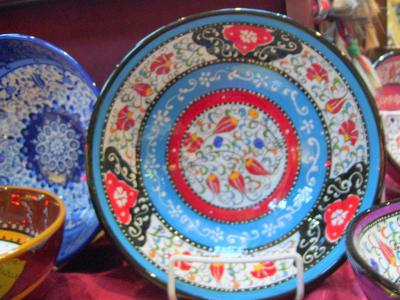 Dogu Garaji Market, Antalya
Antalya offers a shopaholic's dream with more than 80 lively markets and bazaars. If you're seeking a distinctive sensory adventure, make your way to the Dogu Garaji Market. The atmosphere is rich with alluring fragrances of coffee, tea, and a variety of spices, while vendors present an exquisite array of meticulously crafted ceramics and handmade crafts.

Situated near the bustling Kaleici neighborhood, just east of the Old Bazaar and a short distance from the iconic Hadrian's Gate, the Dogu Garaji Market is renowned for its superb local cuisine and convenient location. It offers an authentic taste of Turkish delights, from tantalizing doner kebabs to delightful desserts like Akdeniz Dondurma. Don't miss the opportunity to savor the piyaz bean salad for an authentic Antalya experience.

The Dogu Garaji Market is a genuine Antalya market where you'll discover unique spices, fresh fruits, and vegetables (including excellent vegetarian options like Rokka, Helva Ali, Al fakheer Turkish Delight), as well as a variety of souvenirs. When it comes to souvenirs, you'll find handcrafted ceramics and crafts from all corners of Turkey. Even if you're not shopping, taking a stroll through the bazaar is worth it for the captivating scents and the chance to immerse yourself in Turkish shopping culture.
Dogu Garaji Market on Map
Walking Tours in Antalya, Turkey