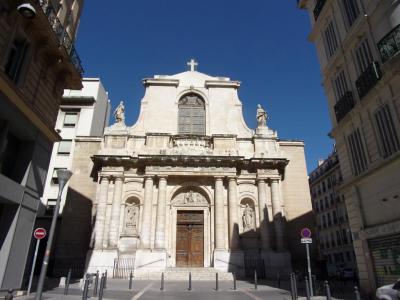 Église Saint-Cannat (Saint Cannat Church), Marseille
The Saint Cannat Church (Église Saint-Cannat) stands proudly as a Roman Catholic church in Marseille, specifically in the 1st arrondissement, which is one of the city's 16 boroughs.

This beautiful place of worship was dedicated to Canus Natus, a revered French Roman Catholic Saint from the fifth century. Its construction commenced on December 31, 1526, and finally, on May 18, 1619, it was consecrated for sacred use. The distinguished architect Joseph Gérard took charge of the facade's construction from 1739 to 1744, adding to its grandeur.

Inside the church, one can marvel at several noteworthy works of art. Among them are two remarkable paintings by Michel Serre (1658-1733) – "The Virgin and Child" and "Purification of the Virgin." Additionally, the painting "The Baptism of Christ," created by Pierre Parrocel (1664–1739), graces the interior. Not to forget, the splendid sculpture of Saint Thérèse of Lisieux (1873–1897) designed by François Carli (1872-1957).

Furthermore, an impressive pipe organ, dating back to 1747, was skillfully designed by Jean-Esprit Isnard (1707-1781), contributing to the church's harmonious atmosphere.

Given its historical and cultural significance, the church building has been rightly recognized and listed as a Monument historique since November 2, 1926.
Église Saint-Cannat (Saint Cannat Church) on Map
Walking Tours in Marseille, France