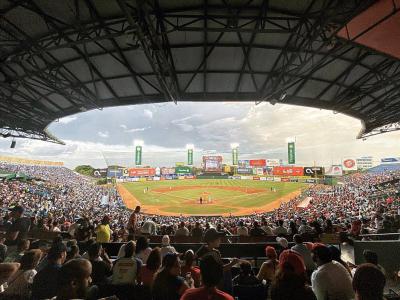 Estadio Quisqueya, Santo Domingo
Estadio Quisqueya is a baseball stadium which is often used as a multi-use stadium. The Quisqueya holds about 16,500 people after its renovation.

The Dominican League Of Baseball Authority is in charge of its management. It is the only stadium in Dominican Republic to host two different baseball teams, the Licey Tigers (Tigres del Licey) and the Escogido Lions (Leones del Escogido).

Its field dimensions are 335 feet at the foul poles, 383 feet at the power alleys, and 411 feet at the center field. It was built in 1955 as Estadio Trujillo, during the Rafael Leonidas Trujillo Molina dictatorship, taking the Bobby Maduro Miami Stadium as the design base.
Sight description based on Wikipedia.
Walking Tours in Santo Domingo, Dominican Republic