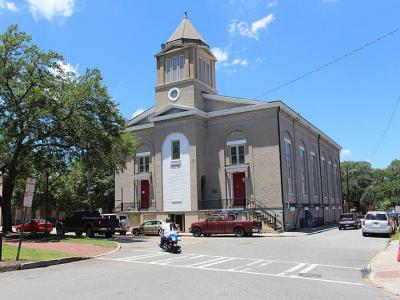 First African Baptist Church, Savannah
(must see)
The First Colored Church of Savannah (renamed the First African Baptist Church in 1882) is the oldest continuously active African-American congregation in North America. It was formed in 1778 by George Liele, the first black man to be ordained by Baptists to preach in Georgia.

The present church was built by members of the congregation, among whom there were many slaves who, after laboring all day in the fields, would make bricks, lay mortar, and carve pews for the church (that are still in use even today!).

During the turbulent years of the Civil War, this temple was a haven for runaway slaves. The fugitives hid in a four-foot high space between the basement and foundation below, with 'air holes' still visible in the basement floor – in lack of better knowledge, some visitors today erroneously assume these holes to be part of an artistic design. Speaking of the design, worthy of note here are the beautiful stained glass windows depicting Liele and other early church leaders, installed in 1885.

During the 1960s, the First African Baptist Church of Savannah served as a base for the Civil Rights movement. Today, it houses a museum containing archives and memorabilia dated from the 18th century.

Those interested in history in general and that of Savannah in particular, should consider taking a guided tour of the church. The tour takes you through the main temple, upstairs, and in the basement where you can learn about the role of the Underground Railroad.

Guided tours are offered Tuesday through Saturday at 11am, 2pm, and 4pm; and on Sunday at 1pm.
First African Baptist Church on Map
Walking Tours in Savannah, Georgia