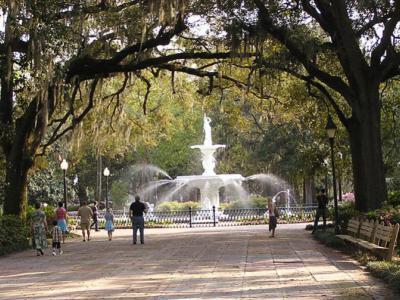 Forsyth Park, Savannah
(must see)
Forsyth Park to Savannah, Georgia is pretty much what Central Park is to New York City or Lincoln Park to Chicago. Occupying 30 acres of land in the city's Historic District, this park was laid out in 1851 and named for the then Governor of the state, John Forsyth.

The park's centerpiece is undoubtedly its most famous asset, the Forsyth Fountain. Modeled after the fountains at Place de la Concorde square in Paris, France, it was added in 1858. More recently, this fountain has made appearance in a number of movies like 'Cape Fear', 'Forrest Gump', and 'Midnight in the Garden of Good and Evil'.

Among other amenities here, visitors will find plenty of walking paths, a children's play area, a fragrant "Garden for the Blind" (where all of the plantings are chosen for their scent, rather than their appearance), tennis and basketball courts, areas for soccer and frisbee, a half-shell theater, cafe, and more. The park is also home to the Savannah Shamrocks Rugby Club, and contains several monuments to historic personalities, including the one commemorating those killed in the Civil War, the bloodiest armed conflict in American history.

From time to time, the park hosts musical events, such as Savannah Symphony and Jazz Festival, as well as a Farmers Market held every Saturday, and free movie screenings every few months. The place is very family-friendly, ideally suited for those loving to throw and kick some ball or simply relax with a picnic and blanket under the shade of an oak tree. Architecture buffs will definitely want to take the sidewalk along the park to view the homes across from it.
Walking Tours in Savannah, Georgia